Decommissioning of Ysbyty Enfys Bangor to start this week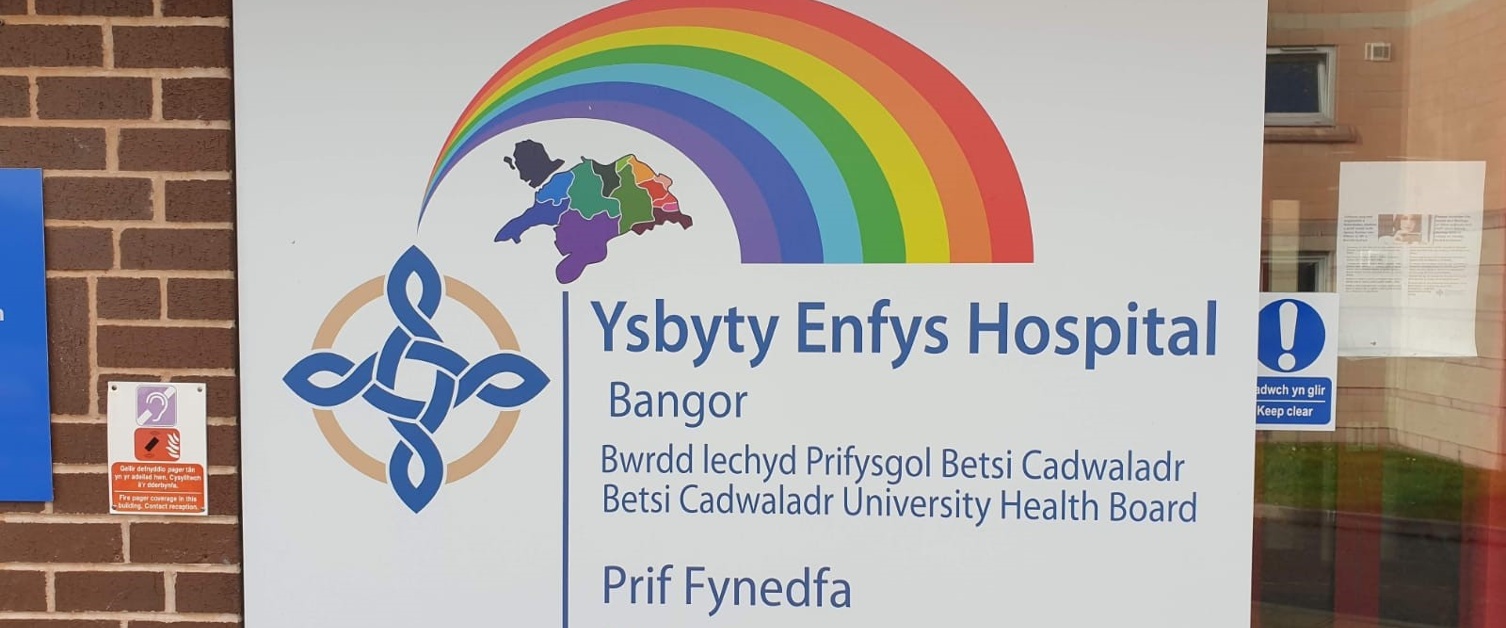 The decommissioning process of the temporary hospital in Bangor that was set up to help in the fight against COVID-19 will begin this week.
As part of the response to the COVID-19 pandemic, Bangor University's Canolfan Brailsford was converted into a temporary hospital to provide additional capacity in April 2020. Fortunately, thanks to the efforts of the local community in adhering to the restrictions in place, the building was never utilised for this purpose.
Since December 2020, Ysbyty Enfys Bangor has been used as a Mass Vaccination Centre (MVC) to support the rapid rollout of the COVID-19 Vaccination Programme and over 85,000 vaccinations have been administered at the centre.
Ffion Johnstone, Area Director for the West of Betsi Cadwaladr University Health Board, said: "We would like to thank our partners, contractors, local communities, staff and volunteers for all their efforts during the last year as we begin the decommissioning stage of Ysbyty Enfys Bangor.
"We are extremely grateful to Bangor University, Gwynedd Council and Anglesey Council for coming together early in the pandemic and making it possible for us to have the facilities at our disposal.
"Thankfully we did not care for any patients at the hospital but we are very proud that we have been able to bring Ysbyty Enfys Bangor in use to vaccinate thousands of people within our communities.
"This pandemic has taken a huge toll on human life, and despite the success of the vaccine rollout, we need to ensure we are following the restrictions that are still in place.
"It is essential that our local communities continue to follow national guidance that includes social distancing, hand washing and the use of face masks.
"Community rates of COVID-19 are increasing quickly across Gwynedd and Anglesey so it is really important that everyone receives their vaccination, this will help protect yourself and your loved ones."
Richard Bennett, Director of Campus Services at Bangor University said: "Bangor University has been proud to support the community and our partners at Betsi Cadwaladr University Health Board and were pleased to be in a position to offer our facilities. We now look forward to turning the facility back into a sports centre for our students, staff and local community which is scheduled to reopen during the first week of September."
From Monday, 5 July 2021 the Mass Vaccination Centre will relocate to Bangor Cathedral where vaccinators will continue to deliver vaccinations until the end of the current programme.
The Dean and Chapter of Bangor Cathedral, Rev Kathy Jones, said: "We are very pleased that as a Cathedral we are able to offer the space as a vaccination centre over the summer months.
"We are keen to serve the community in any way that we can and delighted to be able to do so in such an important and significant way.
"This won't affect our current weekly pattern of opening the Cathedral on Wednesdays and Sunday."
Anglesey Council Leader, Councillor Llinos Medi, said: "We've seen some fantastic partnership working during the Coronavirus pandemic and Ysbyty Enfys Bangor has been a fine example. Thankfully, the hospital was not used as originally intended. As a vaccination centre, however, it has given thousands of Anglesey and Gwynedd residents protection from this virus and hope of a return to a more normal way of life. We're grateful to all the staff and volunteers who have worked there, supporting our communities, for the past 14 months."
To book your COVID-19 vaccination visit here: COVID-19 vaccination: online booking - Betsi Cadwaladr University Health Board (nhs.wales)