Critical care doctor helps publish new book to support quality care of critically ill patients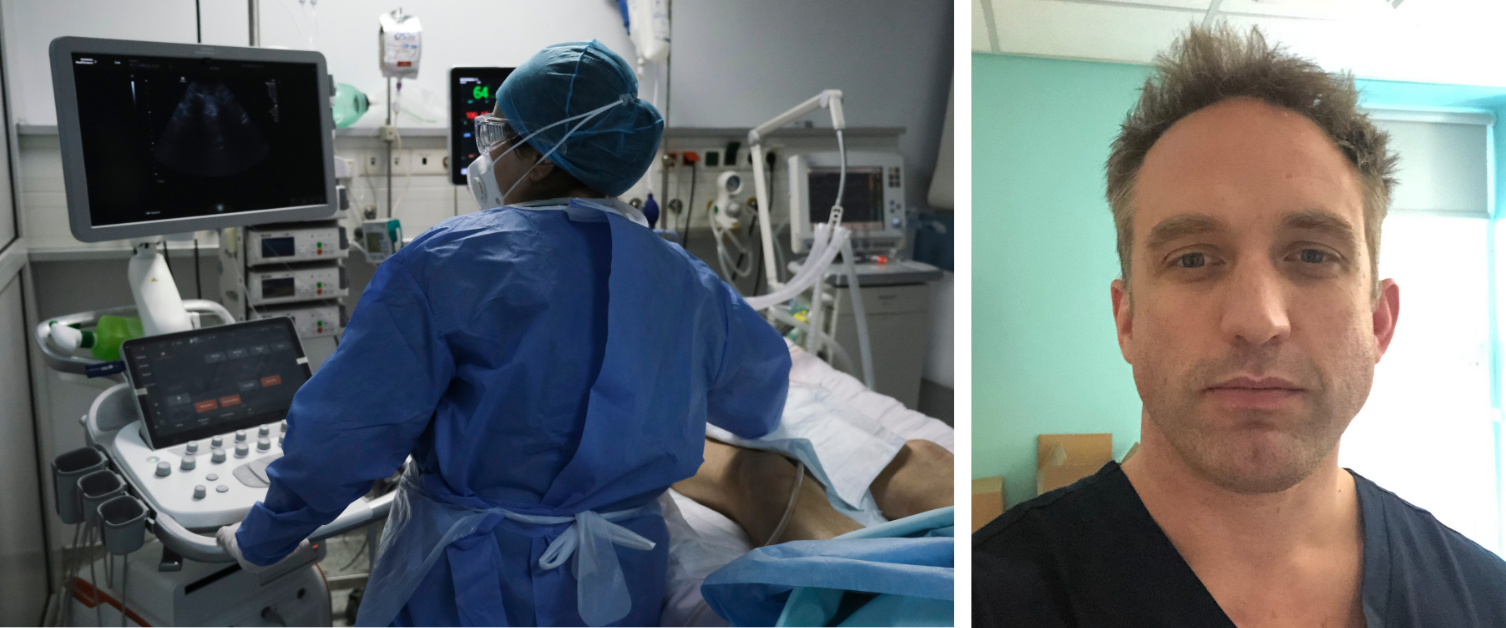 09/02/2022
A new book, co-edited by a doctor from Wrexham Maelor Hospital, has been published to help guide healthcare professionals on the use of ultrasound in the care of critically ill patients.
Ultrasound is a non-invasive procedure that uses high-frequency sound waves to create an image of inside the body, which can help in the diagnosis and management of a condition.
The book called Ultrasound in the Critically Ill: A Practical Guide was co-edited by Dr Andy Campbell, Clinical Lead and Consultant in Critical Care Medicine at Wrexham Maelor Hospital. The book helps reinforce the core capabilities of different ultrasound modalities including echo, which looks at the heart, lung and abdominal bedside ultrasound, whilst also demonstrating its use in neuro, airway, vascular and musculo-skeletal diagnoses.
Dr Campbell said: "Ultrasound has many uses, and the sphere of benefits is rapidly progressing as the machines become more advanced and the acute medical care practitioner becomes more skilled. Ultrasound already forms a key part of the emergency medicine curriculum and will soon be a part of the Intensive Care Medicine (FICM) curriculum.
"This book provides a practically applicable guide to the use of ultrasound in the care of acutely and critically ill patients. It is laid out in two sections; the first section attempts to take a comprehensive approach to specific systems of examination taking an organ focused approach covering techniques including Focussed Assessment with Sonography for Trauma (FAST) scanning and venous sonography.
"The second section presents a range of specific cases enabling the reader to develop an understanding of how to apply these methodologies effectively into their day-to-day clinical practice."
Dr Campbell focused on ultrasound during his training, and has a post graduate degree in the use of point of care ultrasound through Teesside University. He also works closely with the Intensive Care Society Ultrasound Division and, advises the Welsh ICM Specialty Training Committee on ultrasound implementation.
The book was co-edited with Andrew Walden, affiliated with the Royal Berkshire NHS Foundation Trust, Matthew Wise, affiliated with the University Hospital of Wales Department of Adult Critical Care in Cardiff, and Ashley Miller, an Intensivist at Shrewsbury and Telford Hospitals, the first person to become British Society of Echocardiography (BSE) accredited in Critical Care Echocardiography and is a BSE committee member and examiner.
The book includes contributions by over 20 international authors who are all experts in their field, delivering ultrasound for both diagnosis and management in their acute practice looking after the critically ill.