Conwy choir helps adults with learning disabilities sing and sign their way through the lockdown loneliness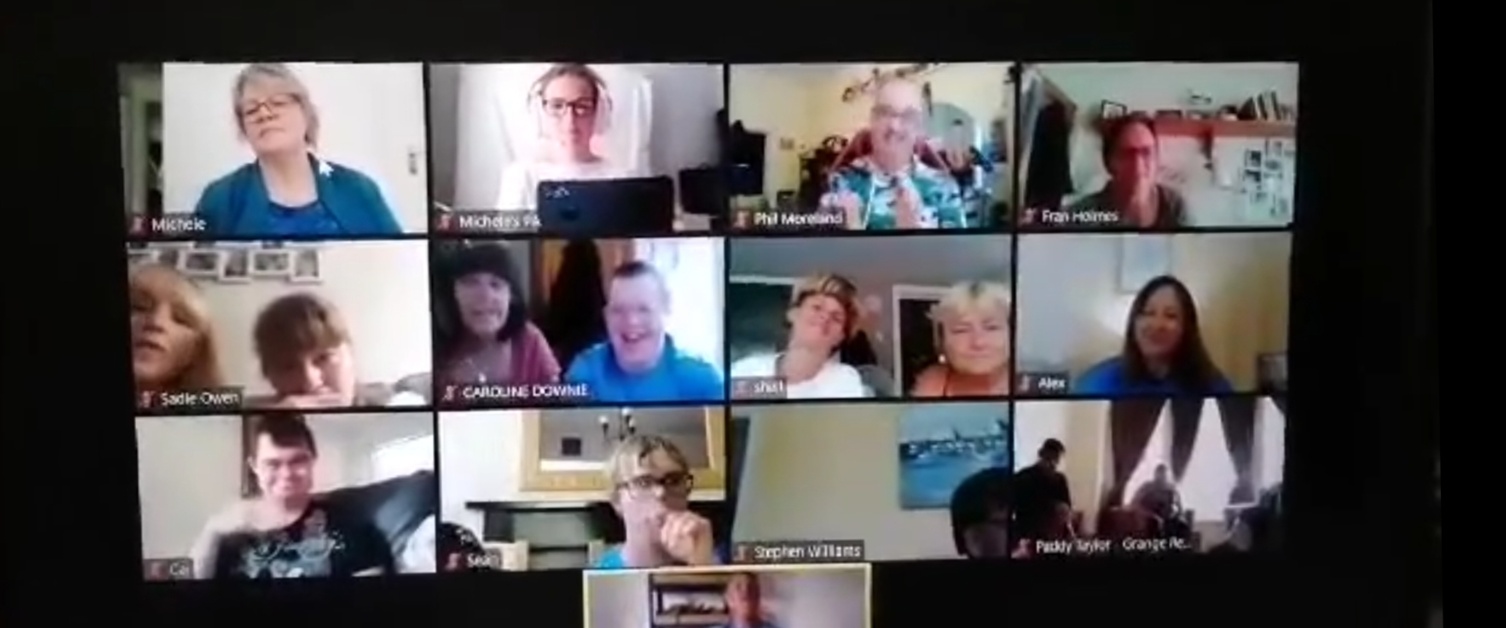 An online choir is using sign language and song to help adults with learning disabilities in Conwy have fun and make new friends during the COVID-19 lockdown.
The weekly Conwy Makaton Choir singalongs have been credited with reducing loneliness and helping adults with learning disabilities to increase their confidence and learn new skills.
To mark Learning Disability Week (15-21st June), adults with learning disabilities from across the county of Conwy are being invited to join the choir.
Makaton is a language programme that uses symbols and signs to give different options for people to communicate. It can help to transform the lives of people with communication difficulties, by giving them a way to express themselves independently.
Since September 2019, the choir had held regular sessions at the Rhiw Road Church Hall in Colwyn Bay.
Determined not to let the COVID-19 lockdown put a stop to their weekly fun, choir members have taken to the online video platform Zoom to sing and sign a number of well-known classics, including The Carpenters' Sing, Sing a Song.
The choir were also recently treated to a live performance by local musician Jamie Price, who sang the ELO classic Mr Blue Sky and The Beatles' Love me do.
Alex Fryer, a Team Leader with Conwy County Council and Betsi Cadwaladr University Health Board's Integrated Learning Disability Team, is among those who support the choir on a weekly basis. She said: "The COVID-19 lockdown has stopped lots of the local activities for us all and this has led to increased loneliness and people missing the fun they have with friends.
"The choir gives us all the chance to have fun, connect with friends, increase our confidence and learn a new communication skill. We all really enjoy it and have made some lovely connections.
"People can learn the Makaton signs to go with the music, sing along, or simply dance to the music. It doesn't have to be perfect as it's all about having fun and learning new skills."
The choir is coordinated and supported by Conwy Connect for Learning Disabilities, a registered charity which aims to promote choice and opportunities for people with learning disabilities.
Adults with learning disabilities and their family and carers who wish to take part in the choir are invited to email michele@conwy-connect.org.uk or visit www.conwy-connect.org.uk for further information.
For further information on Learning Disability Week, please visit https://www.mencap.org.uk/get-involved/learning-disability-week-2020