Community minded mental health patients put their best feet forward in lockdown fundraising effort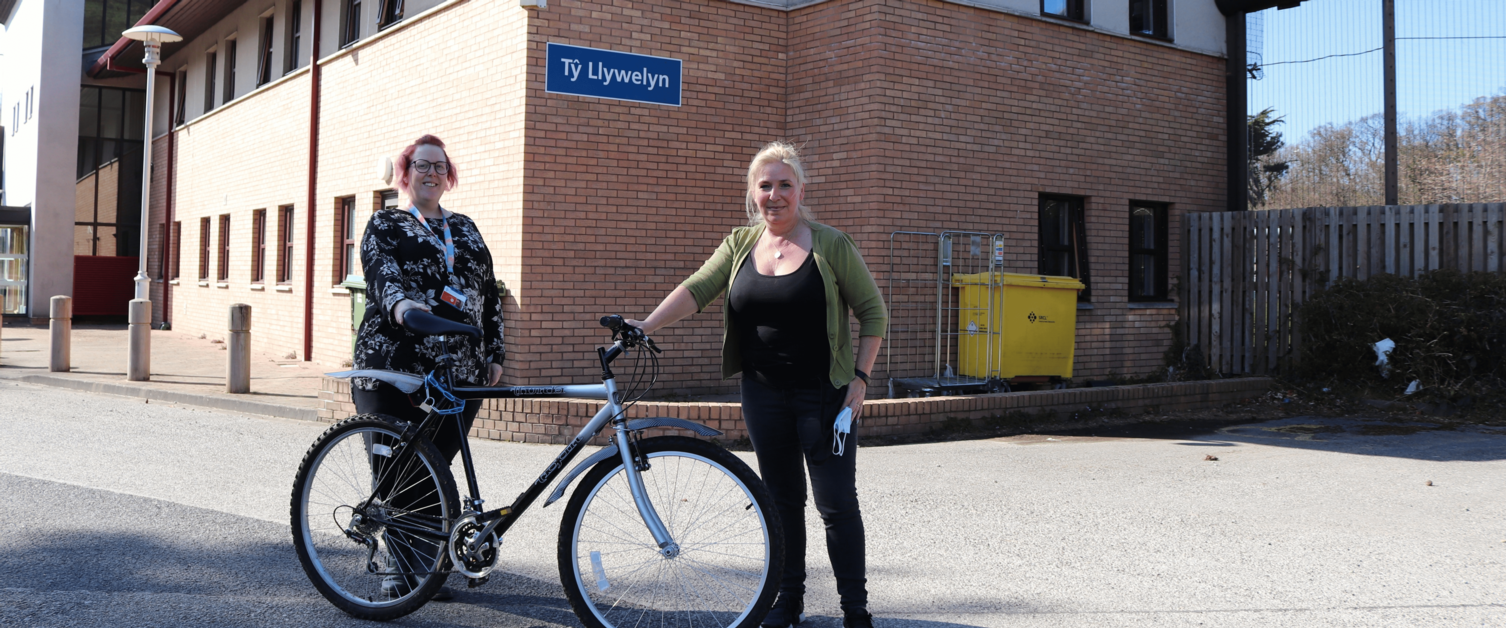 14.04.21
Patients at Llanfairfechan's Ty Llywelyn Medium Secure Unit are putting their best feet forward to support the local community during the COVID-19 pandemic.
Nestled in woodland between the foot of the Carneddau mountains and the sea, the 25 bed unit on the grounds of Bryn y Neuadd Hospital provides treatment for people with complex mental health problems who have come into contact with criminal justice services.
The majority are admitted from prison, through the court system or from other secure units. Thanks to the specialist care provided by a multi-disciplinary team of staff, many patients are eventually able to leave the hospital environment and effectively return to live within their own communities.
During the COVID-19 pandemic, the hospital's patients have been supported to find a number of creative ways to keep fit, learn new skills and give something back to the local community.
Their latest challenge has seen them join Ty Llywelyn staff for an 874-mile virtual cycle challenge from Lands End to John O'Groats, to raise money for Colwyn Bay Mountain Zoo and Ty Llywelyn's patient activity fund, which is part of North Wales NHS Charity, Awyr Las.
The Mountain Zoo was chosen by patients and staff because it is family owned, is the oldest zoo in Wales, and relies entirely on public donations. Whilst closed because of COVID-19 restrictions, the zoo's running costs have still totalled £118,000 per month.
It's the latest of a number of activities and challenges taken on by Ty Llywelyn's community minded patients during the COVID-19 pandemic.
These have included marking the 75th Anniversary of VE Day in May 2020 by walking 75 miles over three months; creating commemorative pebble artwork for Remembrance Sunday, which was laid at the cenotaph in Llanfairfechan; taking part in the Virtual Snowdonia Marathon in October 2020; and most recently completing a 'million steps' walking challenge last month.
In the coming months, they will take part in litter picks on the town's beach and promenade, and work to bring some of the gardens and grade listed ornaments at Bryn y Neuadd Hospital back to their former glory.
These community minded interventions are coordinated by Ingrid Unsworth, a Specialist Occupational Therapist who is well supported by Ty Llywelyn's multidisciplinary team of nurses, health care assistants, psychologists and administrative team.
Ingrid says that the range of activities patients take part in play a crucial role in their successful rehabilitation.
"Because of their difficult backgrounds, our patients can often have low self-esteem and a lack of confidence because they may not feel they have achieved much in the past," she explained.
"By encouraging them to take part in purposeful activities that are focused on their health and wellbeing, we can enable them to find that sense of self-worth and achievement that can help them to start believing in themselves".
"This gives them a chance to develop their interests and find the person they are whilst hopefully also feeling connected to society and their local community. We try to use these opportunities to raise awareness about global issues and build in additional vocational skills that will help them in the future."
Patient feedback has been very positive with patients advising that "walking for a purpose helps with my motivation" and "these challenges have given me something else to focus on during this difficult year". One patient also commented that having such challenges to engage with "gives me a purpose for getting up each day", and "keeps me feeling positive when I'm really missing my family".
If you would like to sponsor Ty Llywelyn patients' virtual cycling challenge, please visit: https://www.gofundme.com/f/team-ty-llywelyn-for-the-welsh-mountain-zoo?utm_source=customer&utm_medium=copy_link&utm_campaign=p_cf+share-flow-1