Community hospital's £4m makeover into health and wellbeing hub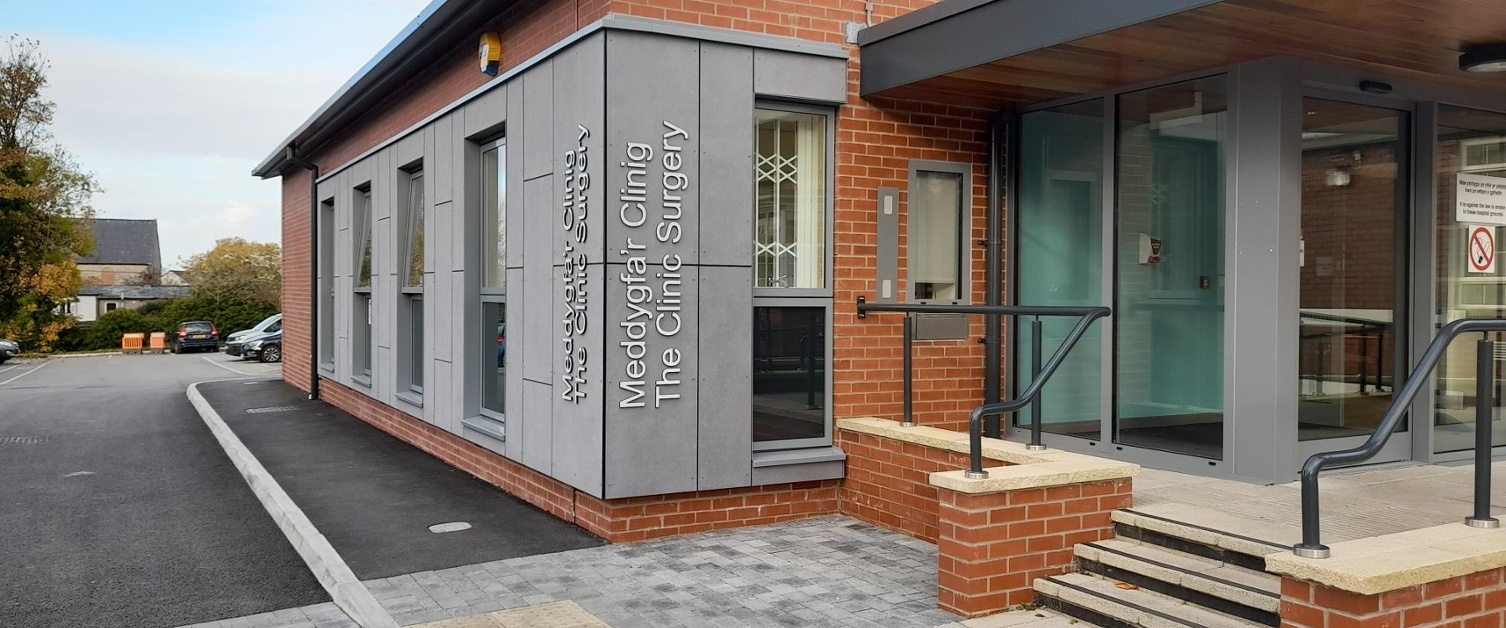 A £4m investment has seen a community hospital transformed into a modern health and wellbeing hub, fit for the 21st century.
Ruthin Community Hospital, which has stood in the town for 117 years, has undergone a radical transformation and upgrade during the process.
It means residents in the area will see a range of medical and community services melded into one centre, giving people around Ruthin and beyond a one-stop-shop for their health and wellbeing.
Clinical director of therapies, Gareth Evans, praised the project team for their work in developing the new-look site, despite the interruption of the pandemic.
He said: "The project has been a fantastic partnership between BCUHB and key stakeholders such as Denbighshire county council, the Welsh Ambulance service and Ruthin Community Hospital League of Friends.
"It will provide many community benefits which will improve outcomes for the local population for many years to come."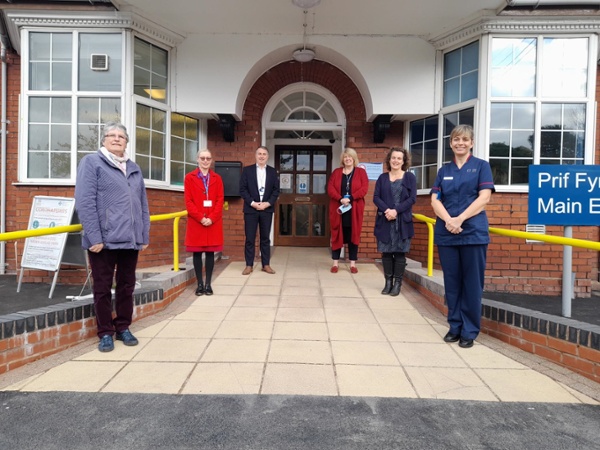 Left to right: Morfudd Jones (Ruthin Community Hospital League of Friends); Jane Jones (BCUHB Planning And Commissioning Manager - central); Gareth Evans (BCUHB Clinical Director of Therapies and Health Science); Bethan Jones (BCUHB Central Area Director); Dr Liz Bowen (Central Area Medical Director); Hayley Lowe (Matron, Ruthin Community Hospital)


As part of the integration of local services, Mount Street Clinic GP practice and dispensary has moved to the 27-bed Llanrhydd Street site and will commence appointments on Monday, November 22.
A newly built extension was created for the practice on the site of the hospital's former physiotherapy unit. This now allows space to support multi-disciplinary working and training, including for medical students.
The hospital provides step-up and step-down beds as well as district nursing, therapies, outpatients and memory clinic, which creates an ideal environment to base medical student teaching.
Research shows GPs who train in a particular area remain loyal to it, with one example being Betsi Cadwaladr University Health Board's current executive medical director Dr Nick Lyons who trained as a GP in North Wales.
In addition, the new site will enable the practice to extend its range of services, such as minor surgery and contraception.
Primary care mental health services including counselling will also be available on the hospital site.
Gareth Evans added: "As project director I'm delighted our goal to re-provide services from the Mount Street clinic in Ruthin has been realised.
"From Monday, November 22, a range of primary care and community services in the Ruthin locality will be provided from modern, fit-for-purpose premises at Ruthin Hospital, providing a greatly enhanced patient experience for the local population."
Mount Street Clinic was unable to expand or develop due to the limitations of its ageing premises, so Denbighshire county council agreed to a land swap.
The local authority gave the community hospital some of its land adjacent to the Ruthin Community Hospital site, in return for the Mount Street premises.
The local League of Friends has also been instrumental in funding a new reception area, tea bar and relatives room, with an investment of almost £50,000.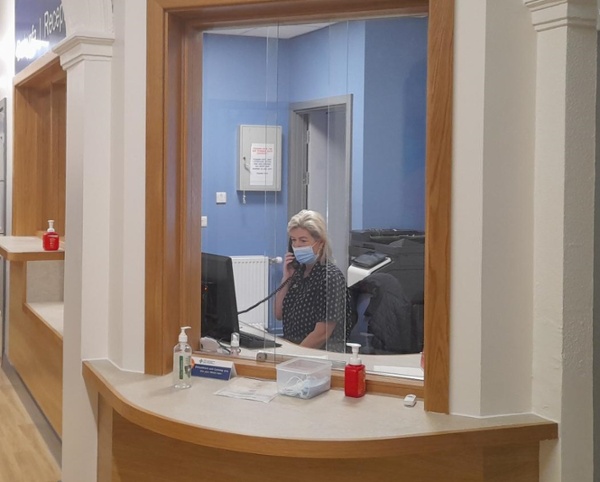 A new reception area was funded by Ruthin Community Hospital League of Friends

Morfudd Jones, chair of Ruthin Hospital League of Friends, said it was a "privilege" to donate money towards the upgraded facilities.
She added: "Praise must be given to all involved. Our staff at the hospital give us a wonderful service and we thank them for their hard work during this difficult time with Covid and during the building works.
"The Community Hospital is a great asset to the town, may it provide excellent service to the area for many years to come."
Staff member Maxine Jones said she was proud of the upgraded hospital and revealed a closer association to the site than many of her colleagues.
She said: "I've worked at Ruthin Community Hospital for 34 years as a domestic and I was born in this hospital in 1963.
"I've seen some real changes and I used to come here when I worked for St John's. I love what they've done to it now. It's a real transformation and doing it during Covid is excellent."
The project team has looked at every aspect of a patient's experience and introduced a number of new features to the building:
Key for patients needing therapeutic treatments has been the development of a dedicated therapies area. All therapy services, including physiotherapy, occupational therapy, podiatry and associated services such as lymphedema, are now located in one part of the hospital – with a larger waiting room. The new unit will provide more placements for physiotherapy students from Cardiff and Wrexham Universities, and give training experience in specialist services, such as neuro-rehab, pulmonary rehabilitation and paediatric physiotherapy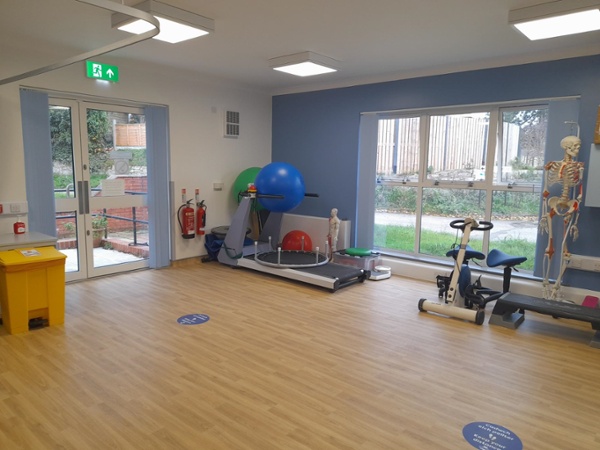 A brand new fully equipped physiotherapy room will help people regain more mobility and help them recover from injuries and medical procedures


Access to the hospital site was poor for pedestrians, cyclists and vehicle users so a land swap with Denbighshire county council allowed for increased parking and better access for those on foot and walking along Mold Road
The new car park will allow more than double the 35 spaces which served the hospital prior to the improvements
A charity and community group meeting room has been created, which is bookable
Older people's mental health services has moved to a quieter, dedicated part of the hospital - meaning it meets recommended standards for people with dementia
The Relatives Room has re-located adjacent to the inpatient ward and provides a quiet space for staff and families wishing to take time out
The new facility will provide experience of working in a rural setting for nursing students – in rural areas people tend to present later with symptoms than in more urban areas
The new, reconfigured building gives scope for health visitors to deliver a number of different services from the new site, such as baby massage and breastfeeding groups
Staff will benefit from new showers and changing rooms and health board employees covering south Denbighshire will have a hot-desking room where they can work from if needed