Canadian therapist wins Welsh Language Award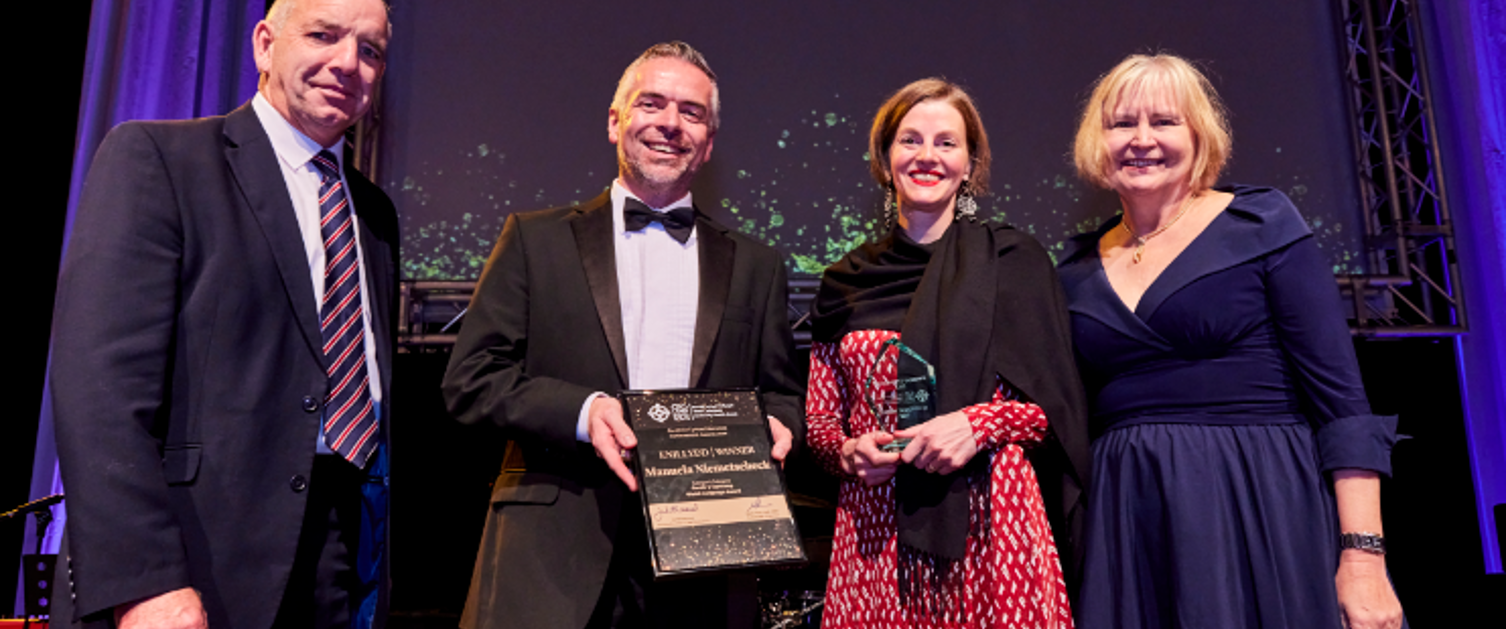 27 October, 2022
A Canadian therapist who has been described as a 'role model' for others to learn the Welsh language has won a special award.
Manuela Niemetsheck, originally from Vancouver in Canada, was the winner of this year's Welsh Language Award at this year's Betsi Cadwaladr University Health Board Achievement Awards.
The Art Psychotherapist, based at Hergest in Bangor, spent time learning Welsh through community classes and courses at Welsh language centre Nant Gwrtheyrn before taking up her post for the Health Board.
Beth Jones, Welsh Language Tutor at Betsi Cadwaladr University Health Board, who nominated Manuela for the award, said: "Manuela's individual Art Therapy sessions are provided in both English and Welsh, and group sessions are facilitated using a bilingual delivery model, often in mixed language groups.
"This is innovative, as often in mixed language groups English can take over as the dominant language. The bilingual model that Manuela has established aims to keep the Welsh language present and to support Welsh speakers of any level in the group to feel included and welcomed to participate in the language of their choice.
"During the Covid-19 pandemic the bilingual art therapy group was halted and sessions were carried out on an individual basis. Working remotely, Manuela continued to deliver sessions with Welsh speaking patients in Welsh.
"Also, during the Covid-19 period Manuela began virtual peer supervision with another Welsh speaking Art Therapist to continue reflecting on patient experiences, the delivery of service and practising Welsh vocabulary specific to the pandemic, PPE and online delivery.
"Manuela is an incredible role model for others to learn Welsh. Llongyfarchiadau Manuela!"
Rhys Evans from award sponsor Ateb, said: "The benefit to patients of being able to access healthcare and advice in their preferred language are plain to see. I want to congratulate all three finalists for their efforts to support and empower people accessing NHS services in North Wales.
"In particular, congratulations to Manuela for going above and beyond in their efforts, as recognised in winning this award."
Jeremy Nash, Chief Executive Officer for overall award sponsor Centerprise International, said: "I was delighted to hear the outstanding stories of kindness, care, compassion and bravery in the face of adversity shown by the finalists at the BCUHB awards.
"This is the fourth year that Centerprise International has sponsored these awards, and year-on-year we continue to be amazed at the lengths NHS staff in North Wales go to to support both patients in the area and their colleagues.
"Congratulations not just to tonight's winners, but to everyone who was shortlisted for this year's awards."