Brilliant Beryl off to pastures new after 37 years fighting for North Wales cancer sufferers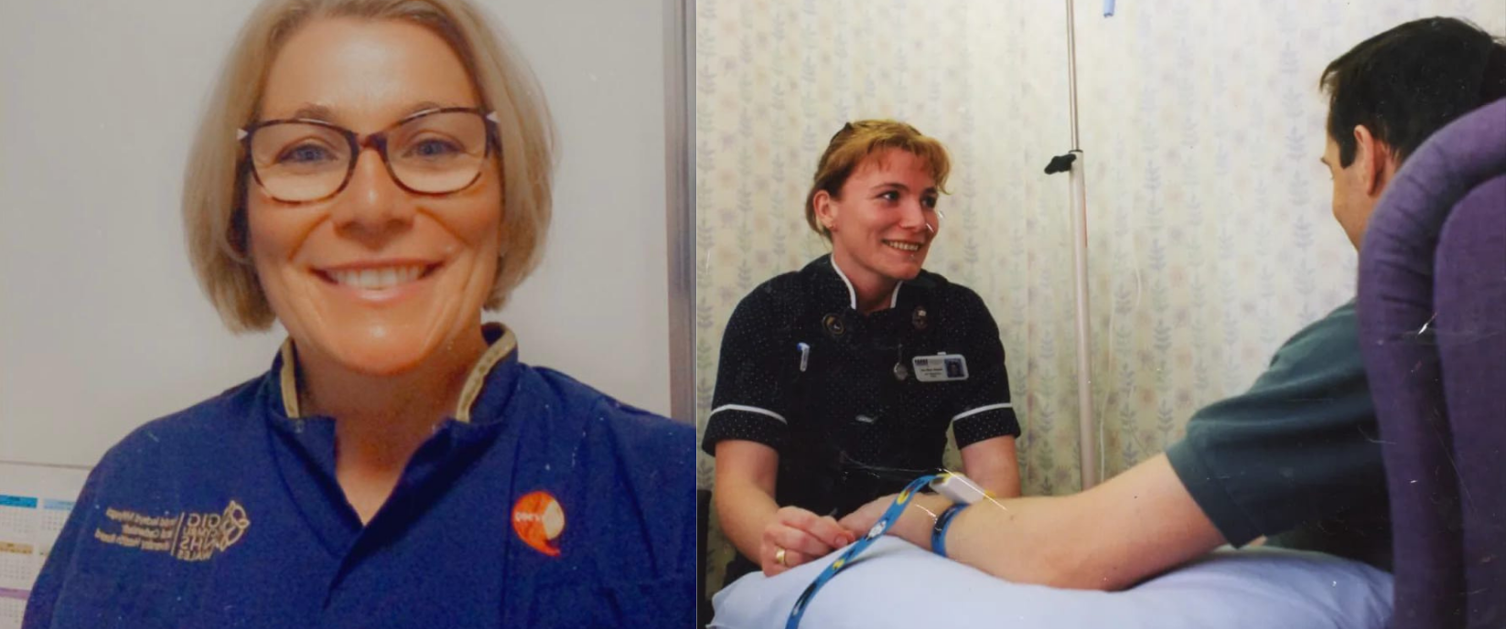 A dedicated nurse who was diagnosed with cancer, then fought for premium services for North Walians throughout her working life is literally off to pastures new.
Beryl Roberts, Betsi Cadwaladr's head of nursing for cancer services, hangs up her fob watch at the end of March - after 37 years as a cancer nurse.
She plans to spend more time on the family sheep farm just outside Conwy but says she'll remain as a bank nurse, such is her love for the vocation she chose as a teenager.
It's been a hard decision to step out of full-time cancer nursing aged just 55 but it was a promise she made to herself many years ago, after her own brush with the disease.
While studying for her Masters degree, on the psychological impact of receiving a cancer diagnosis, she noticed a lump in her neck.
She revealed: "I thought it was lymphoma. It wasn't, it was a thyroid cancer. So I ended up having to have a partial thyroidectomy, then full thyroidectomy and radioiodine therapy in Liverpool.
"I was 30 in the December and was diagnosed in the October, so that was my birthday present. I didn't want to be 30, I wanted to be 20-something forever, but after that I said I would never whinge about getting older."
Beryl revealed leaving her role will be "heart breaking". She said: "My family need me and I need to do something for me. I don't want to go - I could carry on but Covid took its toll and I have been so very worried about everything and everybody.
"I haven't got a last day, I'm weaning myself off the work. I don't want to feel I'm walking out of the place for the last time."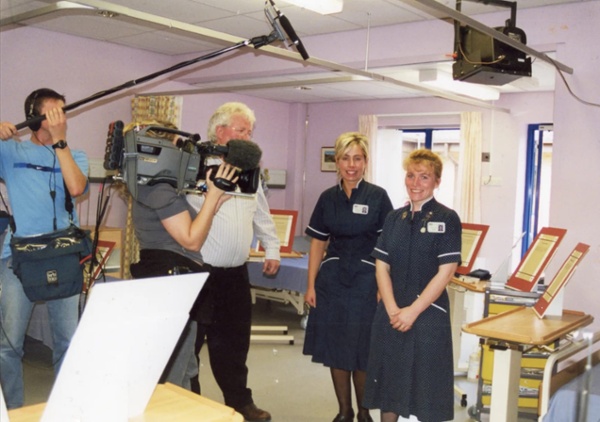 Beryl (right) promoting the work of the health board with national broadcast media Beryl Roberts
Her journey started when she was 16, after a close family friend died of lung cancer. All he could be offered was radiotherapy. The loss left such an impact on her she resolved to learn more about the disease.
"That's all I wanted to do, was cancer," she revealed. "I was fascinated with why some people get cancer? Why do some people cope with a cancer diagnosis and other people don't?
"My mum told me 'you need to be a nurse' and I always did as I was told, so I said 'ok I'll be a nurse then'.
"As soon as I qualified I applied for a staff nurse post in Clatterbridge. That's where all North Wales patients went to for treatment, so I wanted to work there."
She said the real turning point for North Wales was the 1995 Calman Hine report, which advocated reorganising cancer services and creating cancer centres and cancer units.
Subsequently the North Wales Cancer Treatment Centre opened at Ysbyty Glan Clwyd, with a satellite cancer unit at Ysbyty Gwynedd and later at Ysbyty Wrexham Maelor.
This meant radiotherapy patients from North Wales returned from Clatterbridge to the new centre.
"In the 90s there was the boom of lots of new chemotherapy treatments and we were involved in a lot of clinical trials," she said.
"So it meant the patients in North Wales were accessing new drugs. We carried on and on with these scientific developments, until now where we've got immunotherapy."
She revealed 100 patients each day, five days a week, were now receiving systemic anti-cancer therapies – something she's justifiably proud of.
"It's amazing," she said. "It's just unbelievable where we've come to. Some patients are living well with cancer.
"They carry on having immunotherapy treatment for many years. It's just unbelievable for our patients and many are cured of it."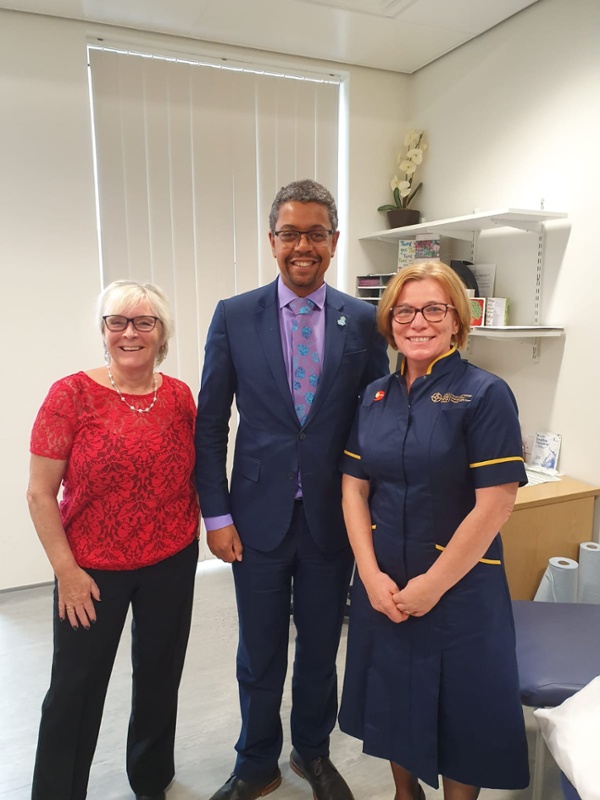 Beryl (right) pictured meeting former Welsh health minister Vaughan Gething Beryl Roberts
Beryl cites how even back in the 1990s many of these patients would have been diagnosed, received no treatment and likely would not have survived.
She said her 18 year-old self would never have believed all the advances in cancer treatment which came during her career.
She said: "It was talked about then (when I was 18) but it was a vision we thought would never happen.
"It's like when they said we would all be carrying a computer in our pockets, a personal computer which would do everything for us and we said 'no'.
"It was the same for cancer really but now we have chemotherapy and treatment regimens for every cancer, from top to toe."
Beryl has worked closely with cancer charity Tenovus throughout her career, both with the financial advice service and the call-back service which works closely with clinical teams to support patients after treatment.
Yet she says her proudest moment was recently securing £1m funding for 24 specialist assistant practitioner nurses to support patients during their diagnosis and treatment.
With each one concentrating on specific disease sites, funding was also secured from charity Macmillan Cancer Support to assist patients diagnosed with skin cancer and breast cancer.
Beryl praised the backing from health board leaders to get the business case completed and across the line.
"We're recruiting all those nurses now," she said. "It'll make such a difference to the patient's journey - and the existing cancer clinical nurse specialists, doctors, pharmacists, radiographers - everybody who worked to help the patients get through their treatments. It will help them.
"It's an amazing multidisciplinary team I'm leaving behind and we are the envy of the rest of Wales having all this new resource."
Beryl believes she's leaving a service to be proud of. She said: "It's been my privilege and my greatest pleasure to be able to work in the organisation.
"I'm really grateful the organisation has allowed me and my colleagues to develop cancer services the way it has."
Jo Whitehead, chief executive of Betsi Cadwaladr University Health Board, said: "I want to personally thank Beryl for her service to the health board and for her dedication to our patients.
"Despite her own cancer diagnosis, her only thought was how she could use her experiences to help others. Beryl should be an inspiration for all aspiring nurses.
"We wish her good health and happiness in her new ventures – and, of course, we look forward to welcoming her back as a bank nurse."