Radiotherapy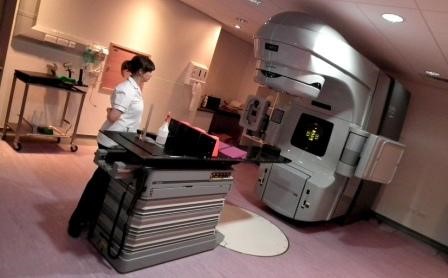 Radiotherapy can cure cancer and is involved in 40% of radical cancer treatment when used alone or combined with other treatments. This compares with surgery (50%) and chemotherapy (11%).
The majority of external beam radiotherapy is delivered by the service based at the North Wales Cancer Treatment Centre using its available linear accelerators. Amongst the machines available are recent upgrades to equipment which will allow new radiotherapy techniques including IMRT.
The North Wales Cancer Treatment centre (NWCTC) opened in June 2000. It is the sole provider of radiotherapy for the 700,000 population of North Wales.
The radiotherapy service is provided by three megavoltage treatment machines (linear accelerators or linacs), one of which was installed in 1994 and two replacement linacs installed in 2011. A lower energy radiotherapy machine is used for treating superficial skin tumours.
Radiotherapy treatments are planned using the simulator or CT scanner and patient images are transferred to a 3D treatment planning system.
This information is used by the Clinical Oncologists to outline tumour volumes and adjacent normal structures. They work closely together with a team of Radiographers and Radiotherapy Physicists to decide on the best beam arrangement to treat the malignant tumour whilst sparing the normal structures, often lying close by.
The Centre treats approximately 1,800 new patients per year and the number of treatments in a radiotherapy course can vary from 1 up to 37.
Most patients attend daily for treatment, often travelling distances of more than 50 miles each way. Hospital transport may be provided for those who do not have their own. A small number of hostel rooms (Gwawr Hostel) are available for patients who are self caring and a small number of radiotherapy inpatient beds on Enfys ward for those who require nursing care.
Image guided radiotherapy allows diagnostic quality imaging to be performed in the treatment room prior to treatment, ensuring that the correct volume is being treated. NWCTC participates in a number of national radiotherapy clinical trials and has an extensive portfolio.
Brachytherapy continues to be delivered in North West England.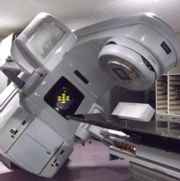 The state of the art linacs at NWCTC are capable of offering modern treatments to the patients of North Wales. NWCTC was the first centre in Wales to treat patients with Rapid Arc Intensity modulated radiotherapy. Here, radiotherapy is delivered by the linac gantry moving around the patient in one or two arcs of about a minute each. The field shape and beam intensity changes as it moves, delivering dose to different parts of the treatment volume and avoiding critical structures nearby.