Brain Injury Service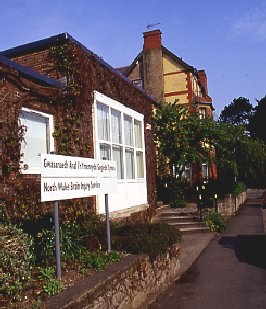 The North Wales Brain Injury Service (NWBIS) was developed during 1998. The NWBIS is a community-based, multi-disciplinary clinical team, providing outpatient rehabilitation for persons with acquired brain injury. It forms part of Clinical Psychology Services within the Mental Health and Learning Disability Clinical Programme Group of Betsi Cadwaladr University Health Board.
The NWBIS provides clinical assessment, and longer-term, low-intensity rehabilitation and review of patients within the community. The primary goal of our clinical work is returning people to employment, volunteering, education, or independent community living.
We provide occupational therapy, speech and language therapy, clinical neuropsychology, neurology and physiotherapy. Patients are seen at any stage after sustaining their injury, but the main input occurs post-discharge.
The NWBIS does not provide inpatient rehabilitation. Within the NHS, some of our North Wales patients receive inpatient brain injury rehabilitation at Clatterbridge Hospital, Wirral Neuro-Rehabilitation Unit, University Hospital North Staffordshire in Stoke, and other units. Whilst in hospital, patients remain under the direct care of the hospital clinical team.
We accept referrals of persons with acquired brain injury from medical doctors, including GPs and hospital Consultants. Referrals should be made by letter and/or by completing our referral proform.
Once a referral is received, the multi-disciplinary team will determine if the referral meets the service's referral criteria. If a referral is accepted, the patient will usually in the first instance be offered a generic assessment to determine the unique areas of clinical need. Where indicated, a specialist assessment (for example neuropsychological testing, occupational therapy assessment) may follow the initial generic assessment. These assessments are used to develop an intervention plan for persons who may benefit from further rehabilitation. Depending on the person's individual needs, clinical input can be provided in individual and group format.
Some of the more general aims of rehabilitation within our service include increasing patients and relatives' understanding of the nature of brain injury; assisting with return to work, study, volunteering or engaging in community-based leisure activities; psychological support and medical review, among others. Patients are reviewed as frequently as determined by their clinical presentation. At the end of the rehabilitation period, which can vary considerably in length based on individual needs, patients go on the service's inactive caseload. At this stage patients can directly re-access the service at any time and do not need a new referral to do this.
Additional to the team's clinical work, the North Wales Brain Injury Service is active with regards to contributing to research, teaching and other academic activities. The service has strong academic links with our local partner university, Bangor University.
North Wales Brain Injury Service Information Booklet
Contact details:
North Wales Brain Injury Service
Colwyn Bay Hospital, Hesketh Road, Colwyn Bay, LL29 8AY
03000 855506
bcu.nwbis@wales.nhs.uk
Useful links:
Headway
School of Psychology, Bangor University
parabl