Ysbyty Gwynedd surgeon to be honoured at National Eisteddfod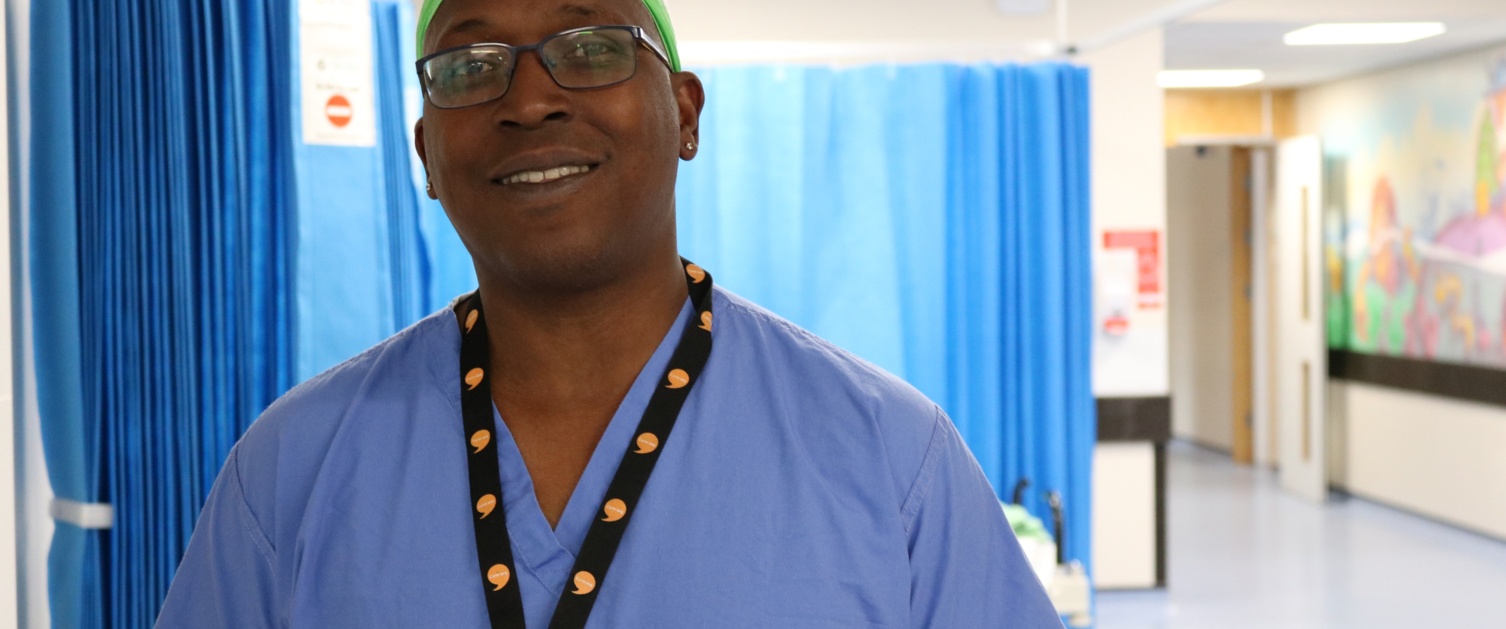 A surgeon from Ysbyty Gwynedd will be recognised for embracing the Welsh language at this year's Eisteddfod.
Mr Phillip Moore will be one of 39 people who will be honoured by the Gorsedd of Bards at the National Eisteddfod in August.
Mr Moore, originally from Barbados, took on his role as Ear Nose & Throat Consultant Surgeon at Ysbyty Gwynedd in 2010 and decided to learn Welsh for the benefit of his patients.
He said: "I always wanted to learn another language so when I moved to Bangor I wanted to make the effort to learn Welsh so I could communicate with people in their own language.
"I began learning Welsh by doing an online course and eventually did a further course at Coleg Menai which I completed within a year.
"I noticed when I started carrying out my consultations with Welsh speaking patients in their mother tongue what a difference this made.
"Patients are happier to discuss their symptoms and problems in their own language, especially children."
Mr Moore also featured as part of S4C's successful 'Ward Plant' series where he was seen communicating with his young patients and families in Welsh.
"It was great to be part of a Welsh language programme and I noticed when I'd have new patients come to clinic they would immediately start speaking Welsh to me as they'd seen me on the show which was a great feeling!," he added.
Mr Moore, who worked at several hospitals across the UK before moving to North Wales, said he is proud to be honoured by the Gorsedd of Bards.
The father-of-two will be amongst rugby stars, comedians and musicians at this year's ceremony.
He said: "This is a real honour for me and something to be taken very seriously.
"I've seen the list of those who are being recognised and they've made a huge impact for the country so I feel very proud to be amongst them.
"I'm also very proud to be doing a job I love and learning Welsh has helped me do my job even better."
Eleri Hughes Jones, Head of Welsh Language Services at Betsi Cadwaladr University Health Board, has described what Mr Moore has achieved with the Welsh language as 'truly commendable'.
She said: "I would like to congratulate Mr Moore for becoming an honorary member of Gorsedd y Beirdd, which is a fantastic achievement.
"I would also like to congratulate him for his efforts and commitment to learn the Welsh language during the last few years. I've seen Mr Moore develop from embarking on his journey to learn the language, to being able to hold clinics through the medium of Welsh, which is truly commendable.
"The difference he makes to patients by discussing their health problems in Welsh is to be admired.
"He has been working towards this aim, in order to deliver the best possible service for his patients.
"We as a Health Board offer support to all our staff to learn Welsh in order to increase our capacity to provide services through the medium of Welsh and Mr Moore is a great example of someone who has invested and applied himself to do that.
"He is very deserving of this acknowledgement, and we are all very proud of him. Da iawn Mr Moore!"