Ysbyty Gwynedd first in the UK to offer valuable training course for healthcare professionals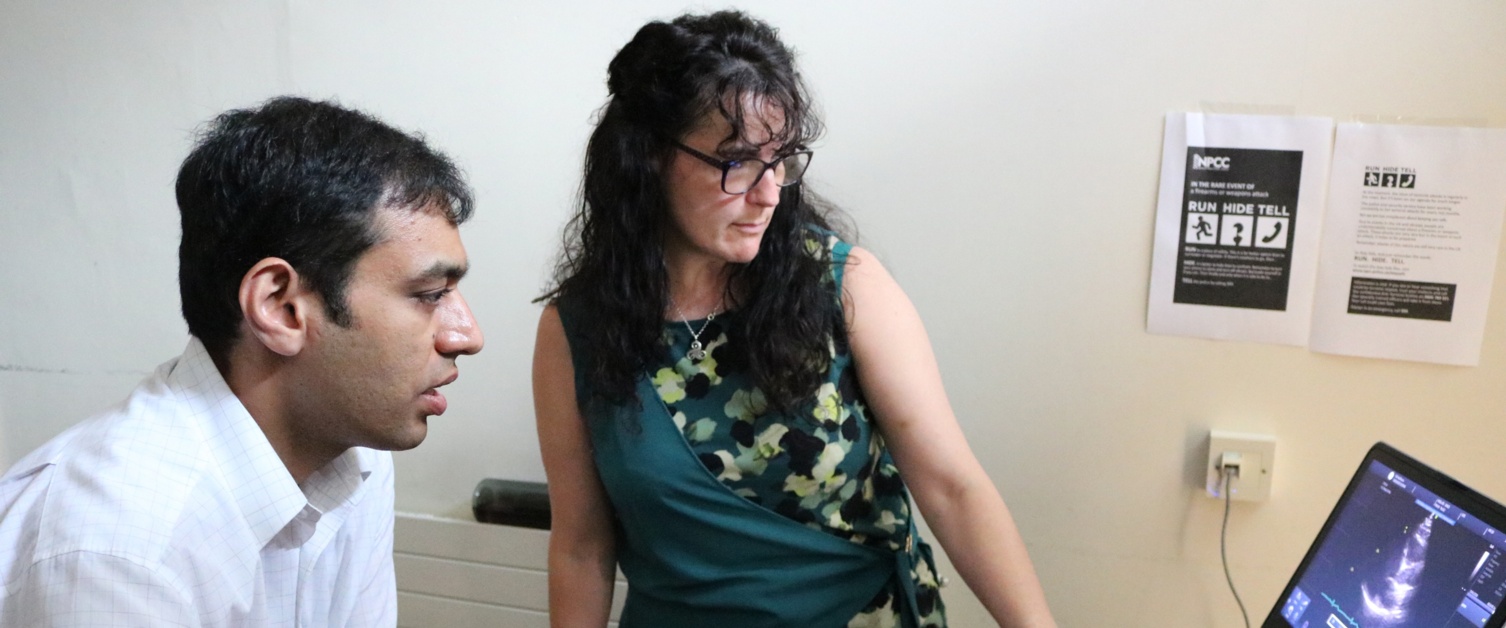 Health professionals at Ysbyty Gwynedd are the first in the UK to take part in a new course designed to improve their resuscitation skills.
The Focused Echo in Emergency Life Support Plus (FEEL+) course was held for the first time at Ysbyty Gwynedd during May.
Health professionals who took part in the training were offered a new extended two-day practical training course using Echocardiography to provide further knowledge and experience when they manage a patient who shows signs of a cardiac arrest.
An echocardiogram is a scan used to look at the heart and nearby blood vessels. It can help diagnose and monitor certain heart conditions by checking the structure of the heart and surrounding blood vessels, analysing how blood flows through them and assessing the pumping chambers of the heart.
Liana Shirley, Advanced Clinical Physiologist for Betsi Cadwaladr University Health Board (BCUHB), with her husband Chris Shirley, who is the Professional Development Lead for resuscitation across BCUHB, brought the FEEL course to North Wales in 2017 and have now expanded this into a two day course with the addition of a second day of mentored scanning experience.
Liana said: "We feel really proud to have achieved bringing this course to North Wales before anywhere else in the UK.
"This course provides the practical training needed by medics and other advanced health care professionals to further their knowledge and experience to provide the best care for the patient.
"There are many reasons why the heart stops so using Echocardiography in a resuscitation scenario improves outcomes for patients as it can identify abnormalities that can be reversed.
"We've received fantastic feedback from those who attended the course – one of the candidates flew from Norway to attend and has since requested that another nine doctors on the Norwegian Mountain Rescue Team all come across and complete our course!"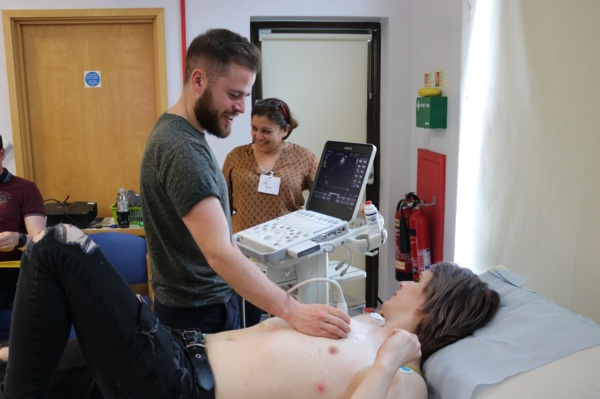 The FEEL course, which was founded by renowned Consultant Cardiologist, Professor Susanna Price from Brompton London, and Consultant Intensivist, Dr Shahanna Uddin at Kings College London; is endorsed by the Resuscitation Council UK, and is held twice a year in Ysbyty Gwynedd and Wrexham Maelor Hospital.
The extended course including a second day of mentorship will enable candidates to gain a head start on developing an ongoing portfolio of scanning experience; leading towards their overall qualification.
Chris said: "The initial first scans has been something of a challenge for some candidates to secure as this requires time with specialist clinical experts. Our new course provides that opportunity to start their portfolio by providing them with that mentorship as they carry out scans on consenting patients, and other volunteer models under the direct supervision of clinical experts in ultrasound."
"We are absolutely delighted to have both Professor Susanna Price and Dr Shahana Uddin who developed the FEEL course, come to Wales and help us make this pilot a success. That they have expressed their support and endorsement of the development of FEEL+ is a huge honour for us as a service."
Sarah Bellis Hollway, Resuscitation Services Manager for BCUHB, said: "I am immensely proud of the team running the course and for the continued and repeated excellent feedback the course has had.
"Chris and Liana have worked hard introducing the course within the Health Board and we are still the only course centre in Wales offering the FEEL course.
"We have now been the first in the UK to run a pilot second day of the course which enables candidates to complete many of their required supervised practice scans.
"I would like to thank all the faculty who came from near and far to support both days of the course as well as the volunteer models and Resus services support staff without whom the course wouldn't run."