Ysbyty Gwynedd Emergency Department ranked amongst the best in the UK by doctors in training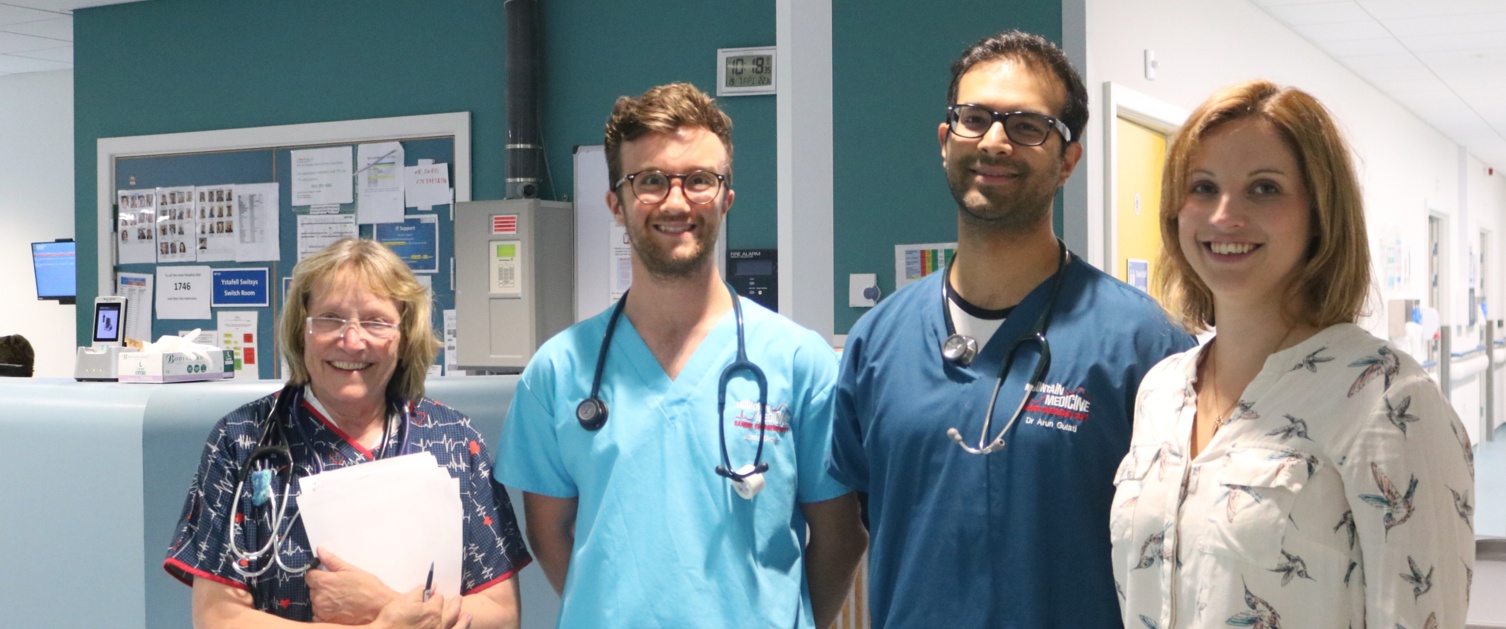 Doctors in training have ranked Ysbyty Gwynedd's Emergency Department as one of the best places to train in the UK.
Results from the recent National Training Survey by the General Medical Council shows over 85% of doctors in training are pleased with the quality of clinical supervision, experience, and the teaching they receive at the Emergency Department.
More than 75,000 doctors in training and trainers took part in the survey this year and the results have placed the Emergency Department as 9th in the UK for overall satisfaction by trainees.
Dr Rio Talbot, Consultant in Emergency Medicine at Ysbyty Gwynedd, who herself came to train in North Wales in 2006 as a medical student, said the department receive up to 20 doctors in training over a 12 month period.
She said: "Emergency Medicine is a learning curve and can be quite daunting so in our department we make sure our doctors receive all the training and teaching they need.
"The feedback from the recent survey is a huge morale boost for our team and confirms we are doing things the right way.
"Personally I'm not surprised by the feedback, having come here myself as a medical student back in 2006 I knew after two weeks this is the hospital I wanted to work in.
"Following training at a number of different hospitals in the UK I returned to Ysbyty Gwynedd and once I'd completed my exams I was offered a Consultant post in January 2017.
"It is very much like a family here, everyone is treated like a member of the team from day one. We try to prioritise training and wellbeing of our staff, this in turn will ensure our patients receive the best care possible."
Dr Sarah Edwards, who spent four years training at Ysbyty Gwynedd's Emergency Department, says the consultants and nursing staff have shaped her career in Emergency Medicine.
She said: "I started my Emergency Medicine training at Ysbyty Gwynedd in 2014, having moved there not really knowing North Wales.
"The four years I spent working there as part of my early Emergency Medicine career was fantastic – the consultants and nursing staff have helped shape my career.
"They were there for me in the good times and the bad and when I was struggling to pass my professional exams the consultants went above and beyond to help me get through it by providing one-to-one sessions.
"Emergency Medicine can be challenging and I still remember one very difficult night when we sadly had a young person die. I was overcome by emotion, and one of the nurses just took me under her wing, gave me a hug and reminded me we are a team.
"The four years I worked there have seen me make some lifelong friends with nurses and consultants alike. They are my ED family and I would recommend working there to anyone."