A pilot scheme to help patients get fit for major surgery in order to reduce the risk of complications following their operations has been introduced at Wrexham Maelor Hospital.
A team of health care professionals are working with Plas Madoc Leisure Centre in Wrexham to hold three Prehab sessions a week for patients awaiting surgery.
The sessions consist of a supervised exercise session, diet education, wellbeing sessions and respiratory muscle training. They are currently being offered to patients awaiting bowel and upper gastrointestinal (GI) surgery.
Consultant Anaesthetist, Dr Neil Agnew, said: "Undergoing major surgery is physically, nutritionally and psychologically demanding for patients.
"Patients with poor physical fitness, as well as a poor nutritional state before surgery are known to have a higher risk of complications after major surgery. Patients undergoing major cancer surgery face additional demands as their surgical treatment is often combined with chemotherapy and radiotherapy.
"We hope by helping patients to get as fit as they can before surgery, they will be less likely to suffer complications and recover quicker."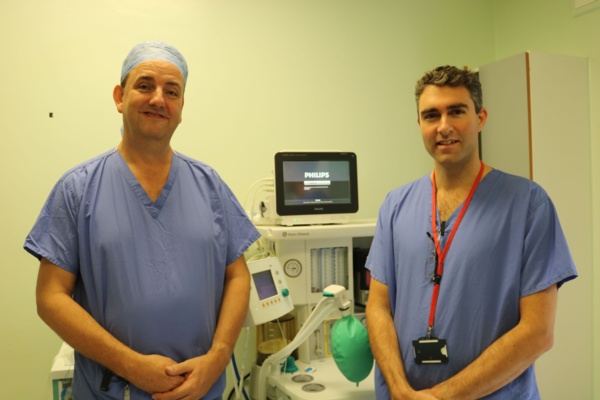 Wrexham Maelor Hospital is the first in Wales to offer to offer the prehabilitation programme to patients who are waiting for major general surgical procedures.
A patient who has benefitted from the scheme is 76-year-old Rosemarie Jones, who has already undergone two operations following her diagnosis of bowel cancer, and was offered an opportunity to take part in the four-week programme in the run-up to her third operation.
She said: "I was really pleased to have the chance to take part in this pilot scheme, it has really helped with my confidence and massively improved my fitness levels.
"You begin with small exercises and you build it up week by week. Not only does your physical health improve but also your mental health and it's also been a great way to meet new people."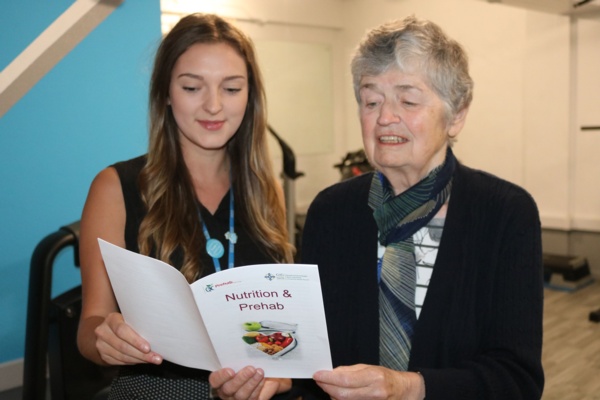 The scheme involves a whole multi-disciplinary approach that includes important input from Dietitians, Physiotherapists and Occupational Therapists.
Dietitian Paige Christopher said: "I see each patient for an initial assessment and we look at what their diet is currently like and how this may be improved to optimise their health.
"It's extremely important to have a healthy diet prior to surgery, ensuring adequate nutrition to help improve surgical outcomes such as reducing wound healing time and risk of infections.
"I've had a very positive response from patients to the programme with many of them adapting their diet to improve their nutritional intake. They also take part in group sessions where they learn more about the different food groups, their effect on the body and the importance of leading a healthy lifestyle."
Physiotherapist, Jo Lloyd, creates tailor made programmes for each patient who comes through the programme and has seen incredible results so far.
"As part of the programme we have an amazing piece of equipment called the POWERbreathe which helps to improve breathing muscle strength which is very important during surgery. Improving your muscle strength can also help with reducing the risk of infections following surgery, such as chest infections. We are extremely grateful to the Shooting Star Trust Fund for donating funds to allow us to purchase this equipment.
"It's incredibly rewarding for me to see the change in patients through the programme and when they leave so much fitter. I have seen patients come to us using their walking sticks and leave using the stairs – it is really showing real results," she said.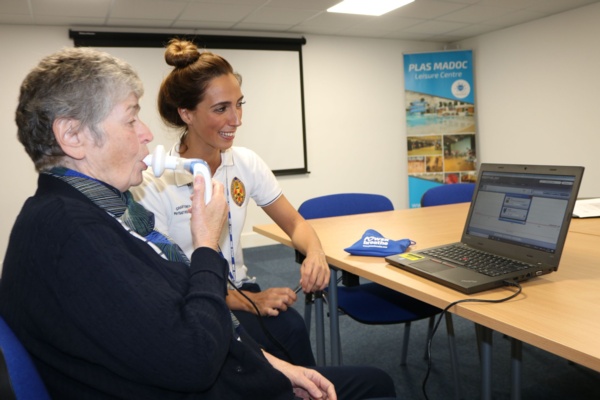 Psychological and emotional support is offered by Clare Williams, Occupational Therapist and Programme Co-ordinator.
She said: "My role involves looking after the general health and wellbeing of our patients that come through the scheme. I provide education sessions, including fatigue management, anxiety management and relaxation. Patients also have the opportunity to spend time together, discussing their shared experience, which they find extremely beneficial.
"I use a holistic approach to find out what our patients need and how they are feeling. Cancer can have a huge impact on someone's life so it is important they have the right support, information and education as they go through their treatment."
The programme has also seen the backing of Wrexham Maelor Hospital Colorectal Surgeon, Michael Thornton, who has seen his own patients benefit from the scheme.
He said: "As a bowel cancer surgeon, I'm aware that surgical treatment for this condition inevitably comes with risks, particularly in more elderly patients or those with complex medical conditions.
"The prehabilitation programme will help patients get fitter and stronger before their surgery, even those who may already consider themselves fit!
"I say to patients that 'the fitter you are going into the operation, the fitter you will be coming out'.
"Our early recruited patients have enjoyed the program due to its multifaceted approach combining promotion of healthy behaviour and prescribed exercise, nutrition and psychological interventions.
"This leads to safer surgery, better recovery and long term health, and even improved cancer survival. Importantly it empowers patients by allowing them to contribute to their health and recovery."
Samantha Davies, who is the Service Improvement Lead for the project, added: "This programme has been a pleasure to lead on. Seeing all the positive feedback from the patients is a great reflection on the team. Seeing patients empowered and motivated to get fit and healthy prior to their surgery is fantastic and hugely rewarding for the team."
The programme is expected to run until March 2020.