Welsh language choice scheme to improve patient care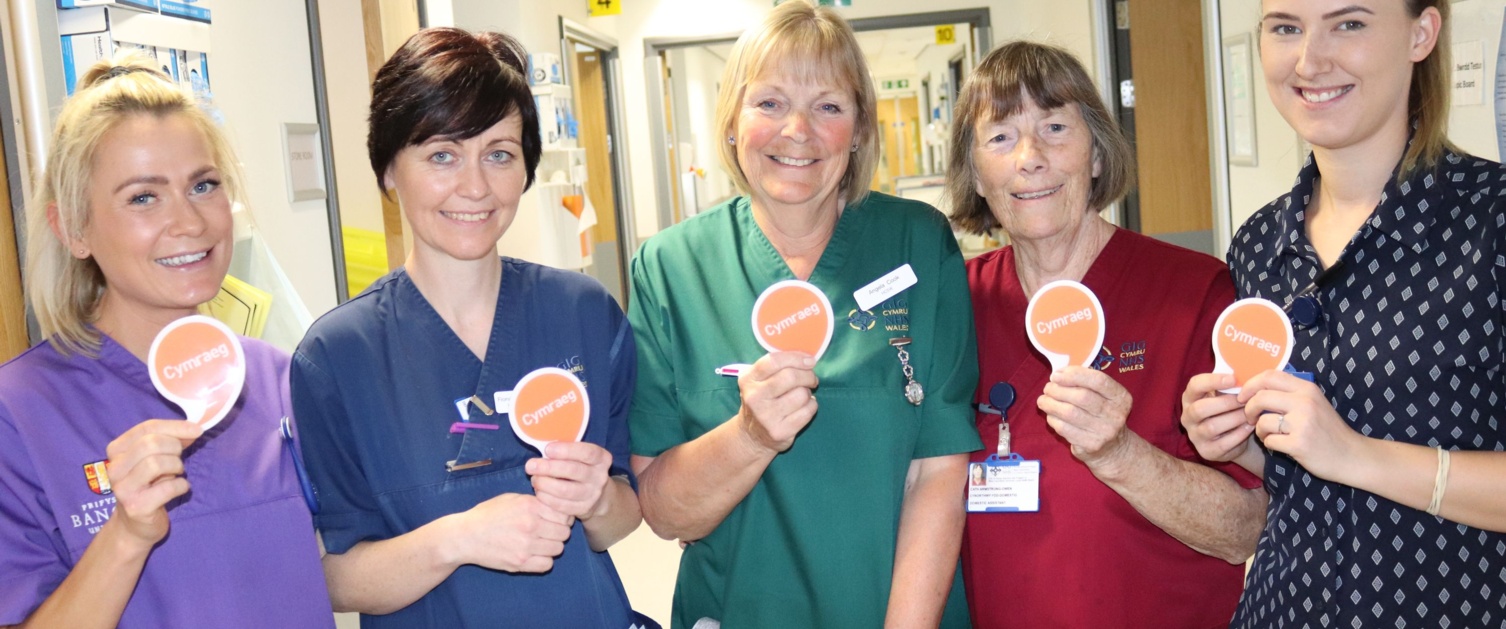 Patients at Glan Clwyd, Holywell and Llandudno Hospitals who speak Welsh will benefit from the extension of an award-winning quality improvement scheme.
YGC Welsh Lang 1The Health Board's Language Choice Scheme, which helps staff and patients to easily identify Welsh speakers, is being rolled out throughout the hospitals on June 3.
The scheme gives NHS staff tools to help identify patients and visitors who prefer to communicate in Welsh.
Studies show that communicating with patients in their first language lead to improved outcomes and understanding of the care and treatment they are receiving.
Upon arriving to in-patient care in the hospitals, patients will be asked what language they prefer to communicate in.
Orange magnets and stickers are then used in patients' notes and on bedside boards to help identify people who would prefer to talk in Welsh.
The scheme was developed by the Health Board's Welsh Language Team to help staff identify patients who would prefer to receive their services and care in Welsh.
The scheme was first developed on the Glaslyn Ward in Ysbyty Gwynedd, a Care of the Elderly ward which regularly cares for patients with dementia, who often have impaired communication skills.
After a successful pilot, the scheme has been rolled out on other wards at Ysbyty Gwynedd and other community hospital sites across North Wales.
The Language Choice Scheme received national recognition when it was awarded the top prize in the 'Active Offer' category at the Welsh Government's "More than just Words..." showcase event in Cardiff in October 2017.
More than just words... is the Welsh Government's Strategic Framework for improving Welsh Language Services in health, social services and social care.
Jan Garnett, Head of Nursing for Surgery at Glan Clwyd Hospital, said: "This is a really simple, effective way of improving the way we communicate with patients in our care.
"Depending on the patient and why they're here, they can see various different professionals during even a short hospital stay.
YGC Welsh Lang 2"This simple prompt will help anyone visiting their bedside spot that they would prefer to be spoken to in Welsh, which will hopefully improve the way they understand the care and treatment they receive."
Smaller orange magnets will also be placed on staff white boards, to enable patients to identify Welsh-speaking employees.
Jan said: "We're starting with the magnetic speech bubbles at the bedside, and staffing boards, and this will allow us to match up staff who are confident in speaking Welsh with patients and to also develop our bilingual provision further in future."
Plans are also in place for Holywell Community Hospital to introduce the scheme in the near future.