The Reading Agency celebrates mental health and wellbeing scheme at the National Eisteddfod in Llanrwst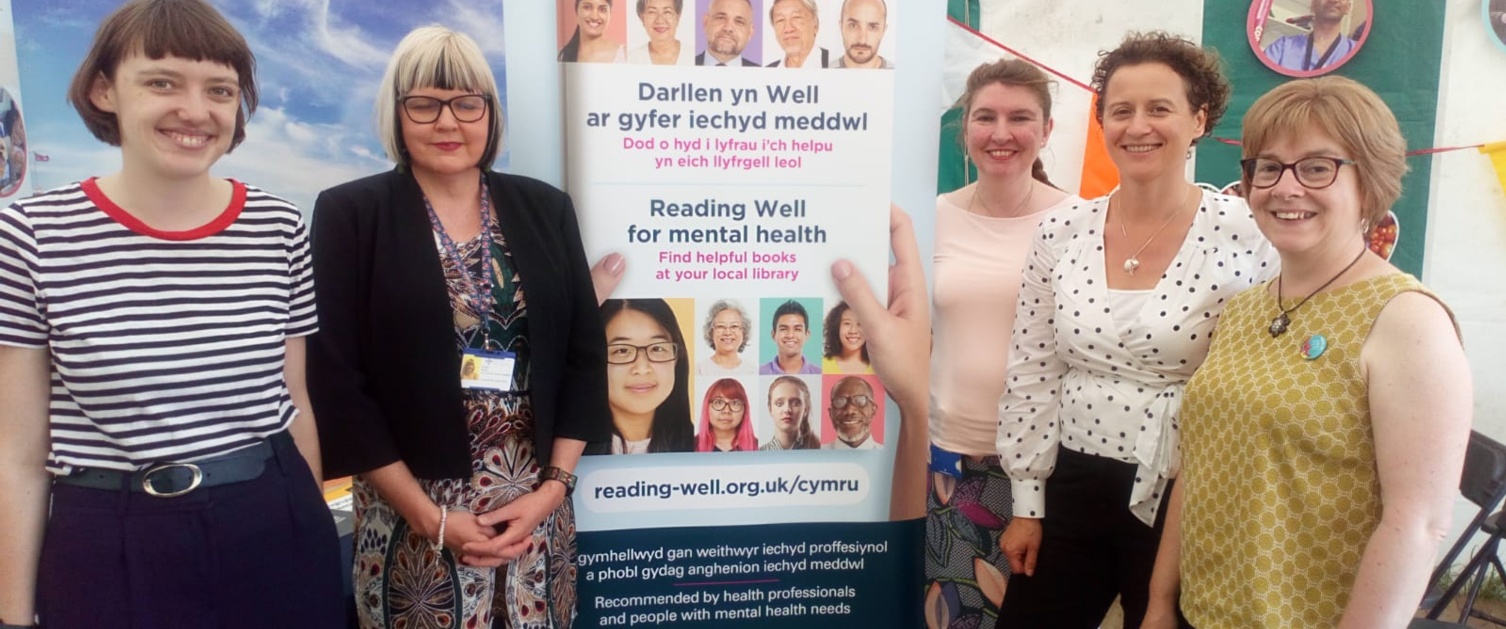 The Reading Agency celebrated its Reading Well Books on Prescription for mental health scheme at the National Eisteddfod 2019 in Llanrwst today (Friday 9th August) in partnership with Betsi Cadwaladr University Health Board.
Health professionals in Wales can now prescribe free library books to assist people in managing their mental health or dealing with difficult feelings and experiences in what experts behind the scheme are calling 'bibliotherapy'.
Reading Well Books on Prescription for mental health has been developed by The Reading Agency and public libraries, leading health organisations including the Royal College of Psychiatrists, Mind, the Royal College of General Practitioners, the British Psychological Society and the Royal College of Nursing, as well as individuals who have personal experience of mental health needs and their relatives and carers.
The scheme is now available in Wales following its success in England which has seen 931,000 people borrow over 2 million Reading Well books from public libraries.
Debbie Hicks, The Reading Agency's Creative Director, said: "One in four of us will face a mental health issue at some point in our lives. Reading has proven power to help people manage their own mental health and wellbeing. We are delighted to be working with SCL Cymru to bring this life-changing programme to Wales, with many of the books available in Welsh for the first time."
Free copies of the books are now available to members of the public to borrow from all 22 public library authorities in Wales. The books can be recommended by a health professional and borrowed free of charge from a local library, or users can self-refer and borrow the titles as they would any other library book.
Teresa Ann Owen, executive director of Public Health at Betsi Cadwaladr University Health Board said: "I'm delighted that Reading Well Books on Prescription for mental health will be celebrated at the National Eisteddfod in Llanrwst, and we fully endorse the scheme at Betsi Cadwaladr University Health Board. We're working closely with library services to actively promote this scheme with our patients, carers and staff and we value the range of health and wellbeing services on offer in our libraries across Wales."
Bethan M. Hughes from the Society of Chief Librarians Wales said: "Libraries can offer a safe place for people to go within their local communities where they can read a variety of important books, and the Reading Well scheme is a great example of this. The strength of this campaign is that it has so many credible partners behind it including Public Health Wales, Welsh Books Council and Betsi Cadwaladr University Health Board. We are thankful for the support provided by Welsh Government and this collection is more than a list of books – they represent the power and impact reading can have in changing lives."
The collection provides helpful information and support for managing common mental health conditions, or dealing with difficult feelings and experiences.
It also includes inspirational personal stories from people who are living with or caring for someone with mental health needs. These include Reasons to Stay Alive by award-winning author Matt Haig, which explores his personal experience of coming close to suicide at the age of 24, and The Recovery Letters, an anthology of heartfelt letters written by people who have recovered or are recovering from depression.
With mental health conditions representing the largest single cause of disability in the UK, The Reading Agency believes it is vital that this support is accessible to all, and as such is working with Welsh Books Council to translate the books into Welsh.
Helgard Krause, Chief Executive of Welsh Books Council, said: "We are pleased to be working with The Reading Agency on this scheme and having books of this kind in Welsh is vital. It is a big project, one that requires a great deal of commitment from a number of people in order to succeed including translators, editors, designers and publishers. We are delighted that the first four books are available in libraries and bookshops across Wales to offer help and support to readers. It is hoped that these books will inspire original work in Welsh, as well as offering advice and guidance to those who wish to use them as self-help reading to understand a variety of mental health conditions."
Ainsley Bladon, Mental Health Strategy Lead at Welsh Government, said: "The Reading Well scheme, funded by Welsh Government, presents a wonderful opportunity in Wales – to continue the legacy of our Book Prescription Wales scheme, to empower individuals to manage their own wellbeing using public health approaches, and, uniquely, to offer a full range of Welsh language titles in our libraries, representing the biggest ever translation project undertaken in Wales."
The scheme aims to make quality assured mental health information and support readily available to members of the public. Reading Well Books on Prescription in Wales has been launched by The Reading Agency and Society of Chief Librarians Cymru and is funded by the Welsh Government.
For more information about the Reading Well Books on Prescription for mental health visit: https://reading-well.org.uk/wales