North Wales dementia support service shortlisted for top national award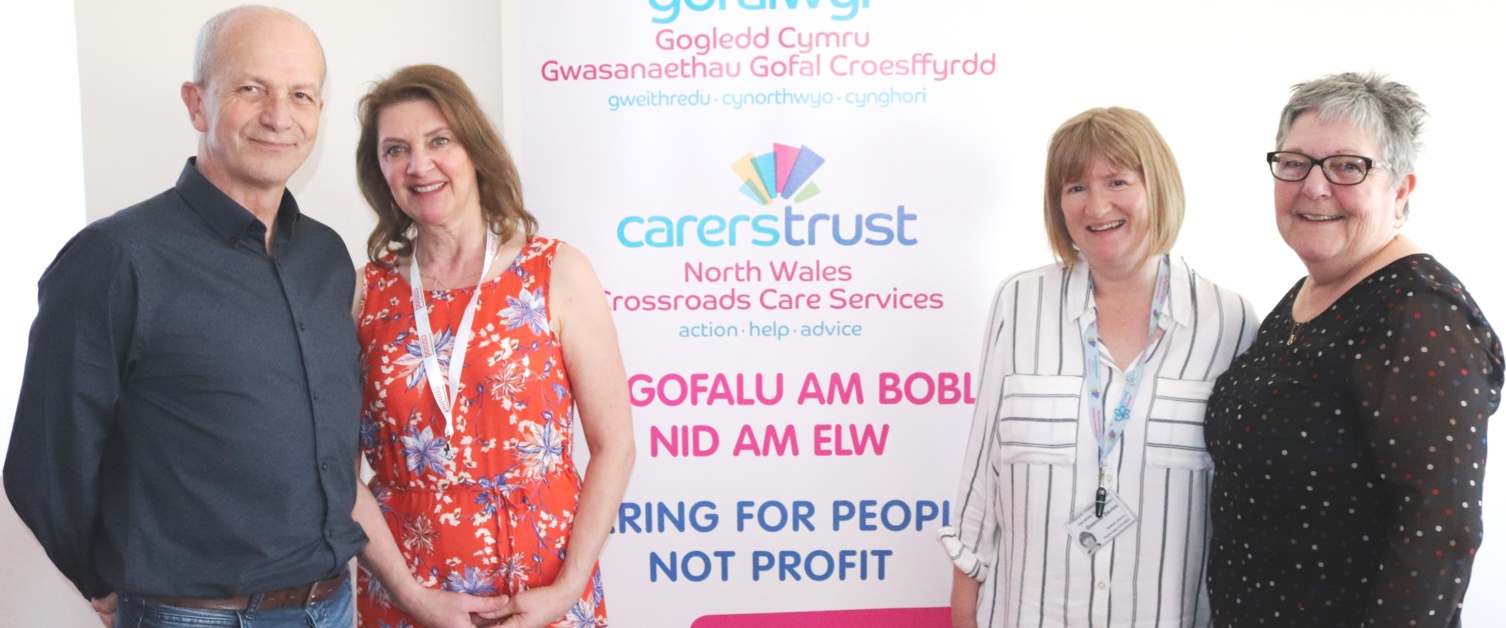 The Carers Trust North Wales charity's Dementia Support Service, which is the first of its kind in Wales, has been shortlisted for the 'Outstanding Dementia Care Innovation Award' at the Dementia Care Awards.
The service, which is commissioned by Betsi Cadwaladr University Health Board, offers a range of personalised support to people who have recently been diagnosed with dementia and their families.
This includes access to a named Dementia Coordinator, as well as training, emotional support, social activities and signposting to support services in the community.
Working closely with BCUHB's Memory Teams, the Dementia Support Service has supported more than 2,000 people living with dementia since being established in 2016.
The National Dementia Care Awards recognise the very best people in the dementia care sector, whose exceptional work and contributions make better, person-centred care a reality.
Staff from the Carers Trust North Wales Crossroads and BCUHB will attend a glittering gala awards ceremony at Doncaster Racecourse on 7th November, which will be attended by over 400 guests.
Among those to pay tribute to the Dementia Support Service is Chris Roberts, 58, from Rhuddlan, who was diagnosed with vascular dementia and Alzheimer's disease at the age of 51.
The former businessman has since become a major advocate for others with the condition through his work as an ambassador for the Alzheimer's Society and as Vice Chair of the European Working Group for People with Dementia.
He said: "This project is one of the amazing success stories that Wales should be proud of. It's giving people quality of life, it's educating people about how to live with or care for somebody with dementia, and it's helping to keep people out of hospital.
"Having a designated named person to turn to means that they can build up a good rapport with the family and it's much easier then to get the help you need, rather than talking to some nameless person.
"I think Wales is leading the way in terms of caring for people with dementia and it's important to keep that momentum up."
Lesley Singleton, BCUHB's Director of Partnerships, said:
"We're incredibly proud that our unique partnership with the Carers Trust North Wales has received national recognition for the huge impact it's making for people living with dementia"
Alison Jones, Chief Executive Officer of the Carers Trust North Wales, added:
"Our service is based on the premise that nobody who receives a diagnosis of dementia is left unsupported, and it's clear from the feedback we have received from people living with dementia and their carers that the service is having a huge impact on their lives at a time when they need it the most"
To find out more about the work of the Carer's Trust North Wales Crossroads Care Services please visit http://www.nwcrossroads.org.uk/our-services/dementia-support-service