Initiative to reduce risk of blood clots for Glan Clwyd Hospital patients receives national recognition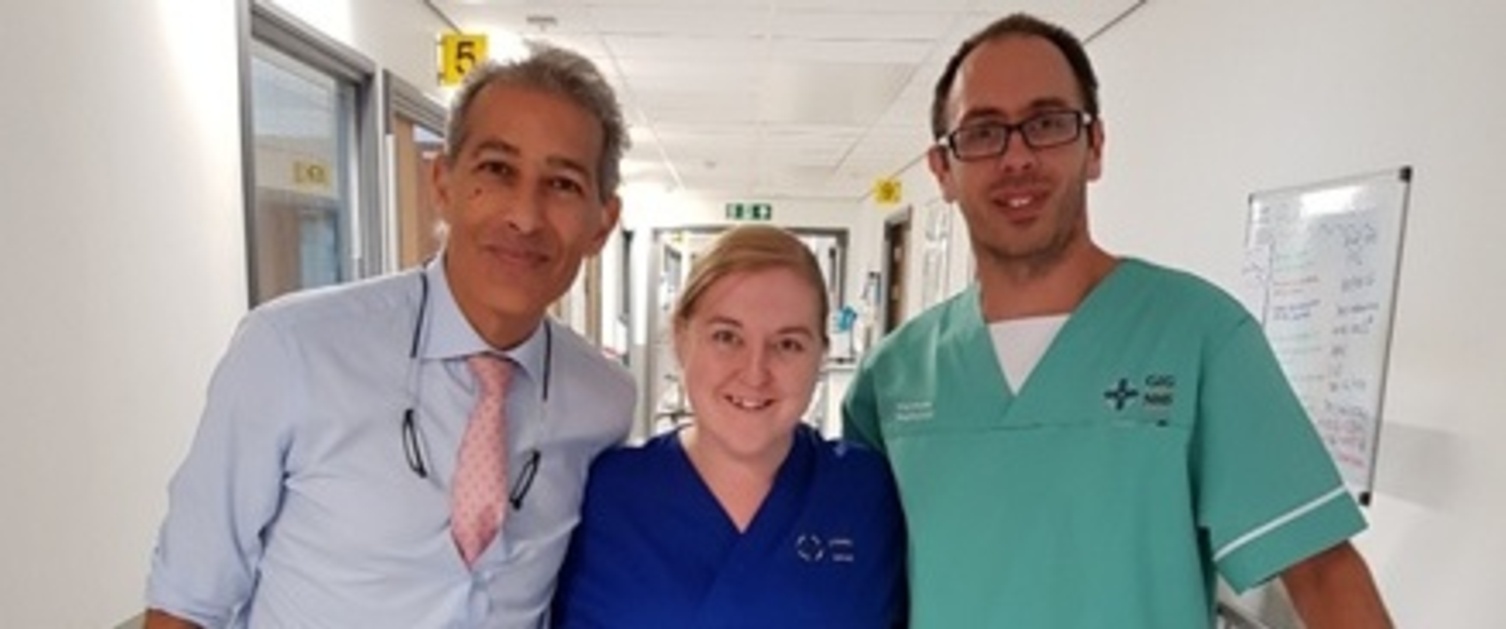 A new approach to avoiding preventable blood clots for patients at Glan Clwyd Hospital has been recognised with a respected national accreditation.
The introduction of a walk-around programme, run by experts in blood clot prevention, which encourages staff to carry out risk assessments on patients has led to an 88 per cent reduction in preventable hospital acquired thrombosis.
As a result of the improvement work, Glan Clwyd Hospital has been awarded the VTE Exemplar Centre Status, a national accreditation recognising the organisation's commitment to preventing blood clots.
The work, carried out as part of the Health Board's quality and improvement programme, has also been shortlisted as a finalist in the NHS Wales Award in the Improving Patient Safety category and received a highly commended in the recent HSJ award for Acute service redesign.
Thrombosis is the formation of potentially deadly blood clots, which can form in arterys (arterial thrombosis) or veins (venous thrombosis).
Blood clots in the arteries can cause heart attacks and strokes, while blood clots in the veins can lead to death due to breaking off and blocking the blood supply to the lungs.
The project saw thromboprophylaxis walk-arounds introduced to the hospital. The unannounced audits involve a nurse, surgeon and pharmacist carrying out checks on the documentation of any patient throughout the hospital.
The weekly audits check whether risk assessments have been carried out, if the right prescriptions for medication are being offered and including practical measures, like offering anti embolic stockings.
In instances where a risk assessment hasn't been completed, the team offer advice and guidance to staff on how they can better guard against preventable blood clots.
Introduced in September 2017, the walk-arounds have resulted in a significant rise in the number of risk assessments completed, with compliance increasing from 34 percent to 100 percent. Just four instances of preventable hospital acquired thrombosis were recorded for the 16 months following the introduction of the walk-arounds, compared to 22 in the eight months before the walk arounds.
Thromboprophylaxis Specialist Nurse Christine Welburn and Melissa Baker came up with the idea to develop the new spot-check system, along with Mr Amir Hanna, Clinical Lead for Thromboprophylaxis, and Haimon Chaudhry, Lead Pharmacist for Surgery.
Christine said: "At the start, we found that the compliance for carrying out risk assessments was as low as 34 per cent, which really needed to improve.
"The results we've had speak for themselves. Betsi Cadwaladr University Health Board now has the lowest rate of preventable hospital acquired thrombosis."
The walk arounds have since been introduced in Wrexham Maelor Hospital, and other hospitals in Wales and England have taken the research to start their own walk-arounds.
Melissa Baker, Lead Manager Quality and Transformation, supported the team with their quality improvement project.
Mel said: "We're now using this as a benchmark to show others on our quality improvement programme what you can achieve.
"The biggest success has been being able to feed back in real time to staff how they can improve their practice.
"By taking the approach of helping to educate and improve the quality of care we provide, participants have really taken the programme to heart."
Professor Roopen Arya, Director, King's Thrombosis Centre and Lead for the NHS VTE Exemplar Centre Network, said: "Preventing VTE is a major clinical priority for the NHS and its partners and the national VTE Exemplar Centre network is committed to promoting best practice in VTE prevention and care.
"The commitment to VTE prevention and the quality of VTE services presented by Melissa Baker and Christine Welburn was highly impressive. Your organisation will be a welcome addition to the national VTE exemplar network."
For further information on how thrombosis develop and how to prevent refer to
https://www.thrombosisuk.org/
where you will find useful information.