'I can never thank them enough' – patient who spent seven months in Intensive Care praises staff at Ysbyty Gwynedd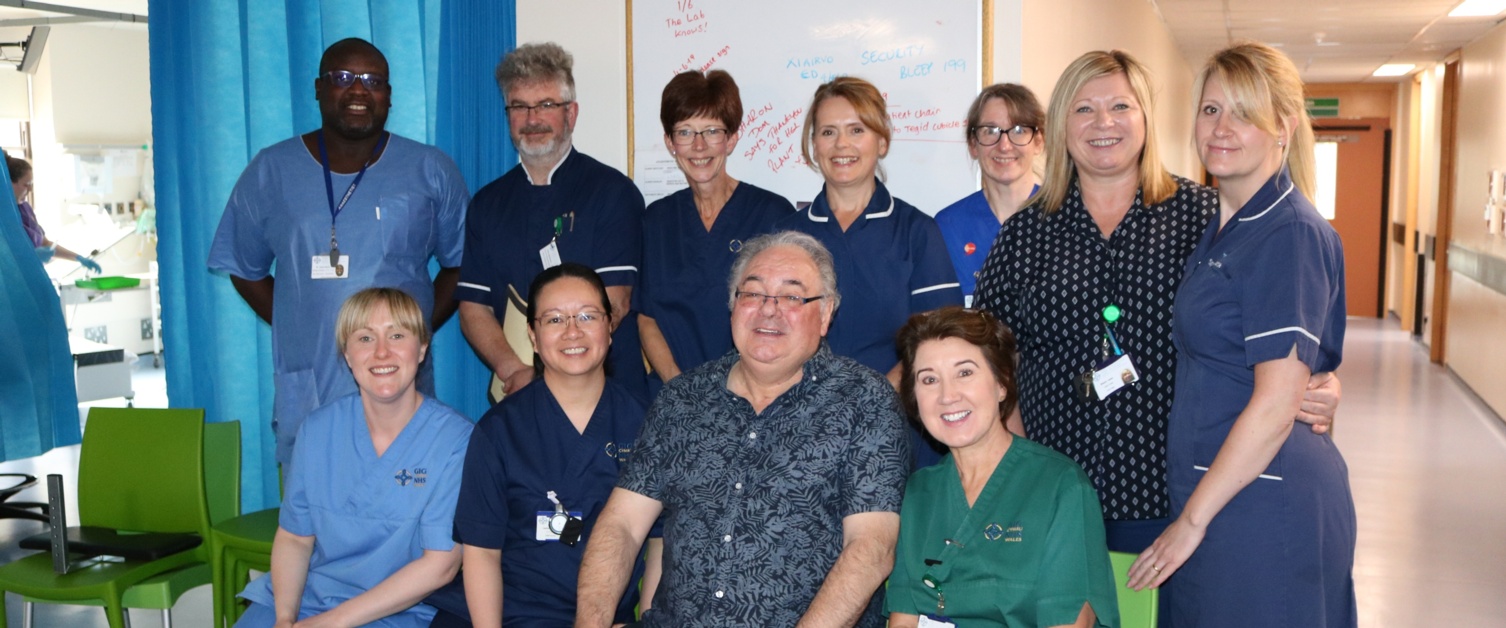 A Llanddeiniolen man who received life-saving treatment on Ysbyty Gwynedd's Intensive Care Unit (ICU) has thanked staff for the 'incredible' care.
Kevin Spice became seriously unwell after being diagnosed with Myasthenia Gravis, a rare long-term condition that causes muscle weakness.
Kevin spent seven months in Ysbyty Gwynedd's Intensive Care Unit (ICU) and during that time the staff and his family members kept a diary which has helped him with the effects of memory loss during his time in hospital.
ICU diaries are written in everyday language and contain daily entries on the patients' condition. The diary is given to the patient after they are discharged from the ICU to take home with them and read at their own pace to understand what has happened to them in hospital if they want to.
He said: "The condition I have is very rare and when I was at my worst it was very frightening.
"When I was admitted to the ICU it never occurred to me how serious it had become and that I might never go home again.
"I was struggling with my breathing which made it impossible to swallow as my muscles were incredibly weak.
"My recovery wasn't easy at all, it was a rollercoaster, I would get so far and then all of a sudden I'd be back to square one.
"I am really grateful that the staff kept a diary for me during my stay. I have found it really valuable and it has enabled me to make sense of my intensive care experience.
"Towards the end of my time in hospital I also created a photo diary of all the people who treated me, amazingly over 90 people were responsible for my care on the ICU and it made me realise how many different specialists are involved in intensive care.
"As well as the ICU staff there were also the physios, speech and language therapists, pharmacists, respiratory consultants and neurologists who all played a massive part in helping me back on my feet, I can never thank them enough – when I was feeling ok, they would laugh with me and I when I was down they were always there to hold my hand."
Sharon Jones, who is the ward clerk for the ICU, said the staff were delighted to see Kevin when he recently came to visit them.
She said: "It's wonderful to see Kevin looking so well. He spent a long time on the ICU and got to know all of us really well.
"We really appreciate the kind words he has to say about all the staff and we are all so pleased he is doing so well."