Healthcare staff awarded for their commitment to learning the Welsh language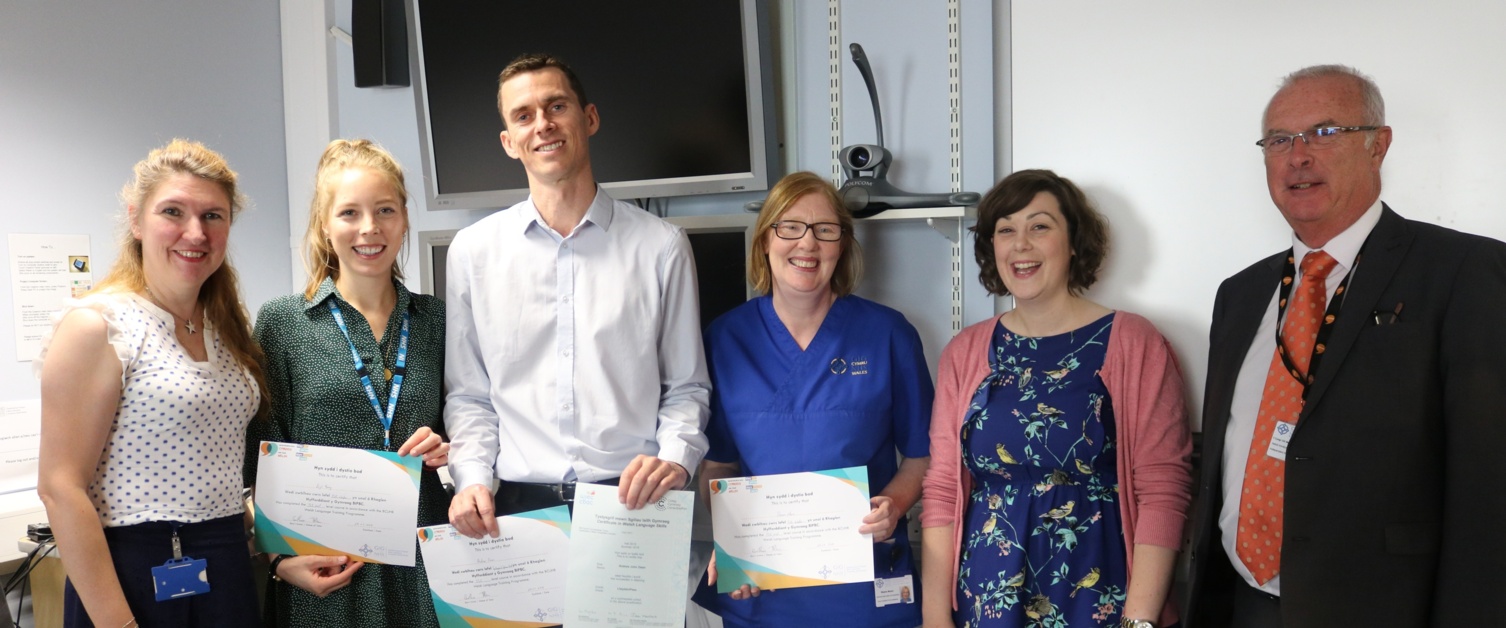 Welsh learners at Betsi Cadwaladr University Health Board are celebrating after receiving top marks for their language skills.
A group of health care staff have received their Welsh Language Certificates after completing a unique course offered by Coleg Cymraeg Cenedlaethol.

The TSI is a recognised and accredited qualification by the Coleg Cymraeg Cenedlaethol and the WJEC which has been developed in order to enable applicants to acquire a certificate evidencing their Welsh language skills and ability to work through the medium of Welsh.

The course, which has been rolled out as a pilot scheme within the Health Board, also aims to boost the ability to communicate confidently and professionally in Welsh, in written and verbal form in order to respond to the needs of the local population.

Macmillan Project Manager, Andrew Owen, who is the first person outside the higher education sector to ever complete both parts of the Welsh Language Skills Certificate, says learning the language has not only improved his communication with Welsh colleagues but also with those outside the workplace.

He said: "I completed both my oral and written parts of the certificate within a year and I was really pleased to find out I'd passed both of them.

"I am originally from Llanddulas and when I moved to Caernarfon it became apparent to me that the majority of the population spoke Welsh so I wanted to make the effort to learn the language.

"Learning the language has enabled me to speak to people in the town in their first language and also colleagues within the hospitals.

"I'm really pleased to receive this certificate and I would like to thank our Welsh language tutor Ceri for all her support through our Welsh lessons – she is a great teacher and extremely passionate about what she does."

Sharon Moore, a Nurse Practitioner in the Pre-op Assessment Unit at Ysbyty Gwynedd, who succeeded in her oral examination, said improving her language skills has enabled her to speak with Welsh patients in their first language.

She said: "It has been really beneficial for me to have the opportunity to attend Welsh lessons through the health board.

"I see Welsh speaking patients who are coming for their assessments prior to surgery so it's important to me that I can speak to them in their first language so it makes them feel more comfortable."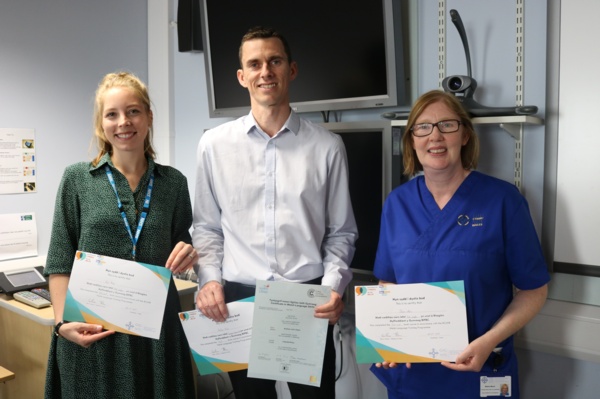 Eryl Young, a Speech & Language Therapist who works within the community in Gwynedd & Anglesey, said the course has boosted her confidence in using the language in the workplace.

She said: "I have always been able to speak Welsh but I have never felt confidence enough to use it at work.
"I visit many schools within the community in my role and I never used to feel confident enough to speak with the teachers I meet through the Welsh language.

"In the last year through taking lessons and now passing my oral examination I feel much more confident and I start the majority of my conversations at work in Welsh."

Also receiving their oral examination certificates were Surgeon Mr Phillip Moore, Geriatrician Dr Sally Jones, Consultant Psychiatrist John Clifford, Pharmacy Technician Yankier Perez and IT Analyst Martin Williams who have both learnt the Welsh language to benefit their Welsh speaking patients.

Ceri Phillips, the Health Board's Welsh language tutor, who offers extensive opportunities at various levels for staff to learn Welsh, said: "Huge congratulations to the members of staff that have succeeded in the oral examination and for Andrew Owen for completing both parts of the certificate, I'm extremely proud of all of them as they've done brilliantly.

"I'd also like to thank Coleg Cymraeg Cenedlaethol and WJEC for inviting the Health Board to take part in the pilot scheme, we are the first organisation outside the higher education sector to take part in the Welsh Language Certificate.

"I'm extremely proud of each member of staff that has taken part in the certificate this year, and I'm looking forward to be involved in the TSI pilot scheme again next year."
Tanya Morgans of Coleg Cymraeg Cenedlaethol said: "The college would like to congratulate the candidate's enuithasim towards the Welsh as they prepare for the Certificate and also in their day to day work.
"We look forward to collaborate during the next year."