Glan Clwyd switchboard operator who helped caller in hour of need presented with health award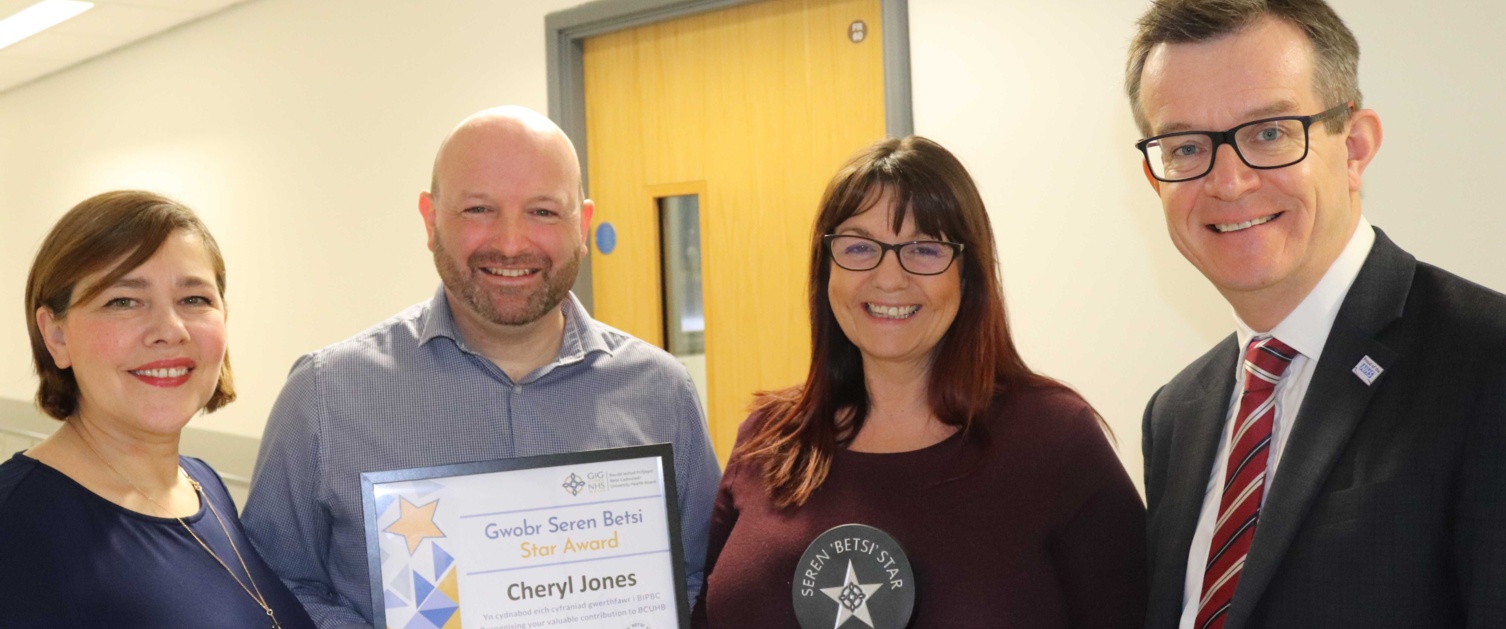 A quick-thinking switchboard operator who helped a caller access care and support in their hour of need has been commended with a special health board award.
Cheryl Jones, who works at Glan Clwyd Hospital, has won a Seren Betsi Star award after she offered kindness and compassion to a caller experiencing a mental health crisis.
Cheryl, who has worked at Glan Clwyd for more than 25 years, kept her caller on the phone for almost 20 minutes while specialist support and advice was secured to help.
After accessing mental health services, the caller then got back in touch with the switchboard team to thank Cheryl for her kindness, prompting her line manager Karl Roberts to put her name forward for the award.
The Seren Betsi Award is presented each month to a member of staff, team or volunteer in the Betsi Cadwaladr University Health Board (BCUHB) in recognition of their efforts to go above and beyond.
Karl said: "I want to highlight the important job that Cheryl has done, Cheryl's a really popular member of the team, she's always chatty and willing to help anybody, and I just wanted to promote the good work that she and her colleagues have done."
"We do get calls from people who are in a difficult place and need help, and these guys do a fantastic job of trying to get them the care that they need.
"They take responsibility for a lot – taking calls about bleep messages, caring for families who just want to know how their family members are. There's a lot of pressure on them and people probably don't realise that.
"I just thought it was important to highlight the fantastic work that Cheryl and her colleagues do."
Glan Clwyd's switchboard receives on average more than 5,000 calls a day.
Cheryl, who has worked in the switchboard for the last two years years, said calls from distressed or concerned patients and their families was a routine part of her work.
Cherly said: "We regularly get calls from people reaching out for help. The team work extremely hard to do what we can to help everyone who calls, and this award really reflects all of our work to do what we can to support colleagues throughout Glan Clwyd."
Mark Wilkinson, Director of Planning and Performance, said: "I was delighted to present Cheryl with this award, she's gone over and above to help someone who called the hospital in their hour of need.
"She made a fantastic contribution to that particular patient's care, and she's a thoroughly deserving recipient of a Seren Betsi Star award."
The free and confidential C.A.L.L Mental Health Helpline is available 24/7 to provide emotional support and signposting to local services. Call 0800 132 737, text 'Help' to 81066, or visit www.callhelpline.org.uk