Dietitians working with North Wales food banks to mark Dietitians Week 2019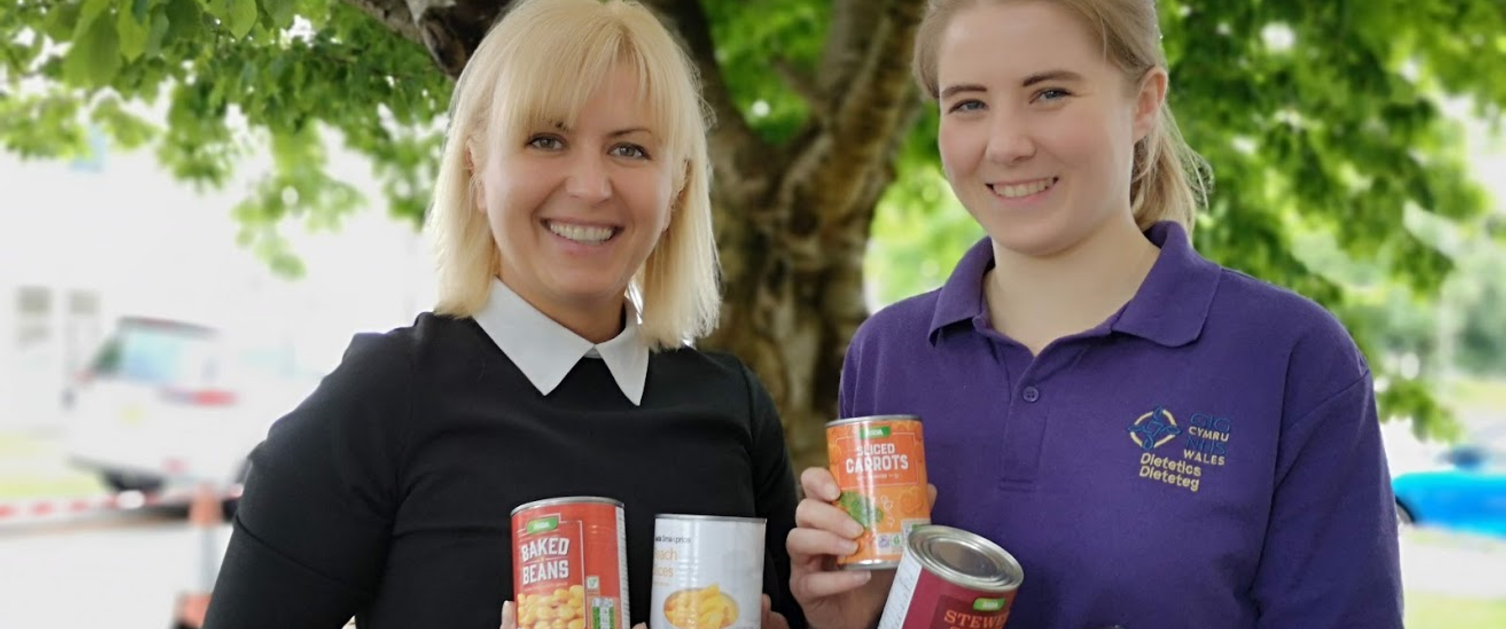 Dietitians have teamed up with Conwy and Denbighshire food banks to help families prepare simple, tasty, healthy meals.
Public Health Dietetic team members Laura Holland and Roza Jozefowicz, based at Glan Clwyd Hospital, are working with food banks in Rhyl, Llandudno and Abergele to help clients prepare nutritious meals using food bank staples.
The team have written recipes based on ingredients commonly donated to food banks, and worked in partnership with local supermarkets to gather donations to help users prepare nutritious meals.
Laura and Roza have also hosted cookery classes throughout Conwy and Denbighshire to test the recipes, and show people how to cook the meals using everyday kitchen equipment.
Classes took place at The Rabbit Hole in Llandudno and Sit and Stew in Colwyn Bay, which work in partnership with the Health Board and local food banks to provide support, training and mentorship to local people.
Demonstrations also took place at Abergele Family centre, Swn y Don in Colwyn Bay and Vale of Clwyd Mind in Rhyl.
Their work forms part of celebrations of Dietitians Week 2019, which ran from June 3-7.
Roza said: "We spoke to local foodbanks and looked at what the most commonly donated items were. By matching up canned and packaged goods with simple, easy to follow recipes, we can encourage families to make nutritious food with items commonly donated at food banks.
"The bags are made up for individuals, couples and groups of four people, and feature food for three days. The recipe cards we've developed make those ingredients go a long way, while also leaving food for other meals and ensuring there's minimal waste.
"The recipes are nutritious, easy to follow and don't require any complicated techniques or equipment to cook, and most importantly are genuinely delicious.
"This piece of work is as much about helping people develop confidence to cook with vegetables and produce, as it is sharing recipes and meal ideas.
"We've had fantastic feedback from participants so far, and will be looking to continue to work with the food banks over the coming year."
Across North Wales, dietitians also hosted bake-off style fundraisers, where therapies colleagues in Wrexham Maelor, Glan Clwyd Hospital and Ysbyty Gwynedd competed to bake the best show-stopping cakes.
More than £500 from the sale of cakes were donated to food banks located near to the respective hospitals.