Dedicated Wrexham Maelor Robin wins North Wales health award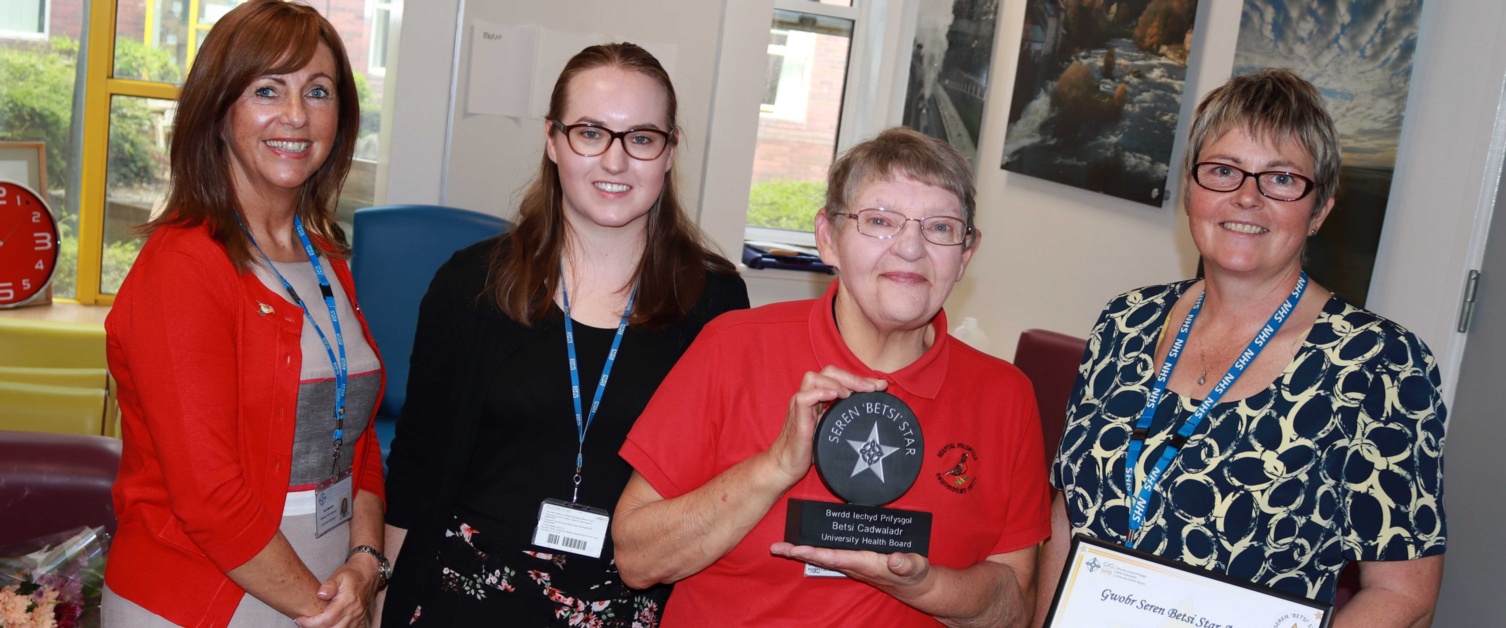 A Wrexham Maelor Robin who spends 400 hours a year volunteering at the hospital has been recognised with a North Wales health award.
Joyce Tudor, who began volunteering on Morris Ward almost six years ago, was nominated for a Seren Betsi Star award by her colleagues for her dedication in supporting the team on the older person's care ward.
Joyce offers a range of support on the ward, including helping to run craft and activity sessions for patients and assisting with afternoon tea parties. She also offers companionship and conversation to patients on the ward, including people living with dementia whose wellbeing improves thanks to her interaction.
As well as lending a helping hand on the ward, Joyce also raises funds for both Morris Ward and the hospital's Shooting Star Cancer Unit.
The monthly Seren Betsi Star Award recognises the hard work and dedication of North Wales NHS staff and volunteers.
Joyce said: "It's been a wonderful experience to receive this award, it really was quite unexpected.
"I enjoy coming in and helping people, it gives me a lot of pleasure to come and help the ward."
Ward Manager Sharon Jones said: "Joyce as an essential and valued member of the Morris Ward Team. She brings commitment, care, dedication and a warm and friendly smile to the ward.
"Patients look forward to seeing Joyce and she makes a wonderful effort to speak to all patients, sitting talking and reminiscing,
"I can't imagine Morris Ward without Joyce. She is as valued as any other team member and is a wonderful and dear friend to many staff on the ward."
As well as providing invaluable support to colleagues on Morris Ward, Joyce also provides peer support and training to other Robins starting out at the Maelor.
Volunteers Coordinator Katie Collins, who described Joyce as an essential and valued member of the Morris Ward Team, nominated the star Robin for the award.
Katie said: "I think Joyce is an inspiration. She's a warm, gentle person, and I really wanted us to celebrate her work.
"She's been volunteering for about six years now, coming in early and staying late twice a week.
"Joyce spends about 400 hours a year with us, and is just a really fantastic volunteer who thoroughly deserves this award.
Joyce was presented with the award by the Health Board's Acting Executive Director of Finance Sue Hill, who was so inspired by her efforts that she has also signed up to volunteer at the hospital.
Sue said: "Joyce is a fantastic example of the positive impact our volunteers can have on both our patients and our staff.
"She's really well liked and respected by her colleagues on Morris Ward and carried out invaluable work providing warmth and companionship to patients there.
"I was really inspired by the work she does – so much so that I've submitted an application to volunteer at the Maelor myself."