Cervical Cancer Prevention Week: Ysbyty Gwynedd Gynae Surgeon urges women to take up the offer of a cervical screening test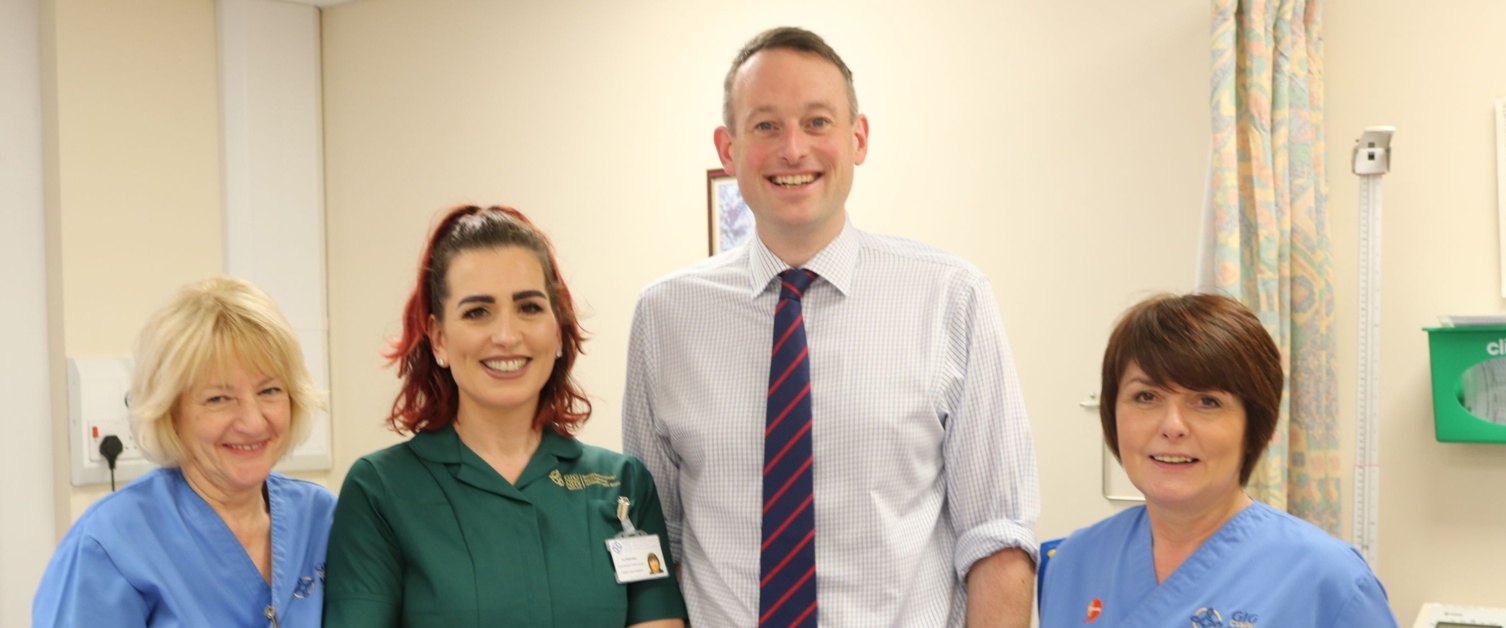 To mark Cervical Cancer Prevention Week, Consultant Gynaecological Oncologist Richard Peevor is urging women to make sure they are up to date with their smear tests.
Cervical cancer forms in the cells that line the cervix and may not have symptoms in its early stages, but it can be prevented through regular cervical screening (smear test).
The most effective method of preventing cervical cancer is through regular cervical screening, which allows detection of any early changes to the cells of the cervix. These changes are fully treatable, but if undetected and untreated they can lead to cervical cancer in some women.
Mr Peevor, who is the Clinical Lead for Colposcopy & Gynaecological Cancer for BCUHB, said: "Having a smear test is hugely important as early detection of any abnormalities within the cervix can lead to a better chance of successful treatment.
"It's important to get the message across that cervical screening is not a test for cancer, but instead allows for detection of abnormalities at an early stage.
"Early detection is key to increasing survival rates so educating everyone about the disease, its symptoms and ways to prevent it is very important.
"I'd like to take this opportunity to urge all ladies to take up their all-important cervical screening appointment, the test only takes around five minutes and it could save your life."
In the UK, you are automatically invited for cervical screening if you are:
between the ages of 25 to 64
You are invited:
every 3 years between age 25 and 49
every 5 years between age 50 and 64
Most cervical cancers are caused by a virus called human papilloma virus (HPV) that is a common virus that 8 in 10 people will get. It usually goes away without causing any problems.
"HPV is usually passed on through sexual contact, which can make some people feel worried or embarrassed. But it is nothing to be ashamed of. Because HPV lives on our skin, it is easy to get and difficult to completely protect against. In most cases, your immune system will get rid of HPV without it causing any problems.
"Cervical screening will test your sample of cervical cells for HPV first. If HPV is found, it will then look for cell changes in the same sample. This helps identify those with the highest risk of developing cervical cancer so they can get the right care.
"Having high-risk HPV does not mean you will get cancer. Like other HPV types, in most people high-risk HPV goes away without causing any problems," added Mr Peevor.
More information and support about cervical screening can be found at www.jostrust.org.uk and www.cervicalscreeningwales.wales.nhs.uk/home