Ysbyty Gwynedd has been recognised for providing outstanding care by the relatives and loved ones of patients living with dementia.
The National Audit of Dementia (NAD) is a clinical audit programme commissioned by the Healthcare Quality Improvement Partnership on behalf of NHS England and Welsh Government and looks at the quality of care received by people with dementia in district general hospitals.
Over a three month period in 2018, 66 carers in Ysbyty Gwynedd completed a carer's questionnaire. It was found that Ysbyty Gwynedd was in the top seven for carer's communication, and top 11 out of 197 district general hospitals for overall carer's satisfaction across England and Wales.
Nine wards were highlighted as providing excellent communication with the loved ones of patients living with dementia.
Clare Wilding, Ward Manager of the Care of the Elderly Ward, Glaslyn, said: "We are very proud to be recognised through this audit, which was carried out over three months, for all the incredible work we have accomplished in Ysbyty Gwynedd.
"The feedback from families and carers reflects our drive to include them in the care of their loved one, and to keep them up to date daily with the care we are providing.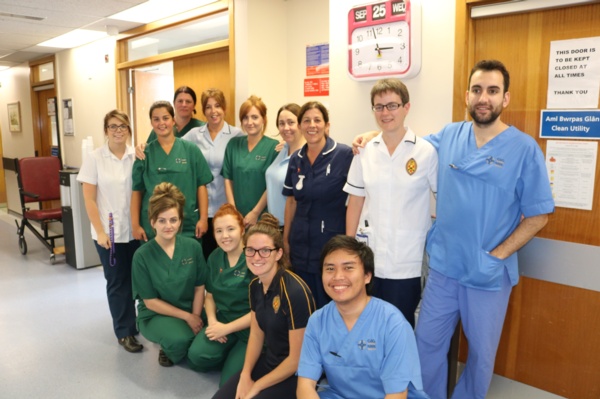 "This is a whole Multi-Disciplinary Team approach which includes the doctors, nurses, health care assistants, physio and occupational health therapists who all work together to achieve the high standards of care."
The surgical and medical wards also received positive feedback for the care they are delivering.
Victoria Seddon, Ward Manager for Tegid Ward, said: "On Tegid our team are proud to deliver dementia focused care for our patients and are proud that Ysbyty Gwynedd is recognised for all its work in becoming a dementia friendly site."
Rachel Hughes, Ward Manager for Ogwen Ward, added: "On our Trauma and Orthopaedic Ward we are inspired to ensure we deliver the best dementia care for our patients.
"All of our staff took part in their dementia care training each one is a dementia friend.
"We are very proud of the feedback we have received for Ogwen and we will continue to provide the best care for our patients living with dementia."
This news follows Ysbyty Gwynedd being recognised as the first acute hospital in Wales to receive official recognition of working to become dementia friendly.
So far, over 500 members of staff are now 'Dementia Friends' at the hospital, and a range of activities and training sessions are continuing to be held to help staff understand more about dementia and how it affects patients and their families.