A Bangor University student nurse has received a top national award for her work with people with learning disabilities.
Kate Young beat competition from across the UK to be crowned the Nursing Times' Student Nurse of the Year for learning disabilities at a glittering ceremony in London.
The judges said they felt Ms Young was an "outstanding candidate" who "demonstrated exceptional skills" in all areas of the judging criteria.
The 26 year old, who is in the final year of the Learning Disability Nursing degree course at Bangor University, said she was shocked and honoured to have been recognised.
She said: "It feels incredible to have won the award. It was a really tough category with lots of very worthy finalists all doing fantastic work in learning disability nursing across the UK. I was so honoured to have been nominated and winning came as a huge shock!
"I am so thankful to each and every individual I have worked with over the last three years as a student. From the patients and their families to all my colleagues. I wouldn't have been able to do any of it without them so this award is for all of them too!"
Kate also paid tribute to the support received from staff at Bangor University's School of Nursing and Betsi Cadwaladr University Health Board's Learning Disability Services, where she has completed a number of placements.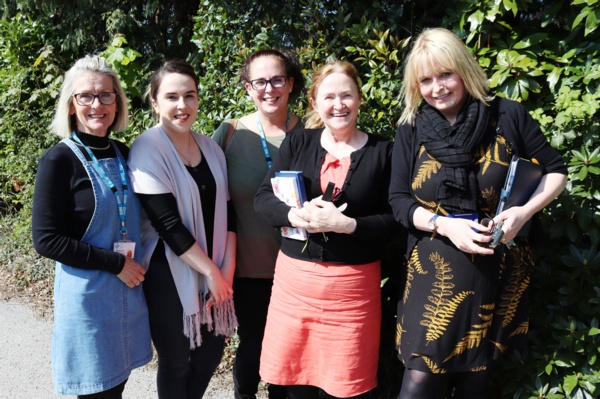 "The Learning Disability Team at Bangor University are incredible, they have a huge amount of knowledge and experience," she said.
"The skills and passion they use to transfer this to the students is so inspiring. Also the links they have with the learning disability nursing teams working across Betsi Health Board is fantastic. They are always able to put you in touch with someone who can support you to further advance your interests.
"All my practice placement experiences have been brilliant and I have learnt so much from each and every member of the teams I have spent time with. Everyone is so welcoming and always happy to spend time sharing their knowledge helping to shape the future nursing workforce."
Kate has recently joined Betsi Cadwaladr University Health Board staff in celebrating 100 years of learning disability nursing. She wants to encourage more people to consider a career in this diverse and "hugely rewarding" profession.
"The routes that a degree in LD nursing can take you are expanding constantly" she explained.
"We can work across so many areas of health and social care. If you want a job that is different every day, challenges to think outside the box and allows you to work in the most passionate and inspiring teams then this is for you."
If you are interested in studying towards a career in learning disability nursing then please visit the Bangor University website: https://www.bangor.ac.uk/courses/undergraduate/B763-Learning-Disability-Nursing