A couple has thanked staff at Wrexham Maelor Hospital's Special Care Baby Unit (SCBU) for the life-saving care their daughter received by making a donation in celebration of her 21st birthday.
Elinor Jones, who now lives with her family in Kingsbridge, South Devon, was born 11 weeks early, weighing just under 3lbs, and spent six weeks in hospital until she was well enough to go home on New Year's Eve 1998.
Her parents, Andy and Karen Jones, have supported the unit ever since and decided to mark Elinor's landmark birthday by making a donation of £1,000 towards a new ventilator.
Karen said: "I will never forget the first time I saw Elinor, tiny, quite hairy and dark skinned, lying covered in tubes in her incubator, and the feelings of sadness at not being able to hold her.
"Elinor stayed in SCBU for six weeks, a difficult period of juggling for the whole family, particularly as it included Christmas. She had two brain bleeds, significant jaundice and countless tests and scans, but thankfully did not require ventilating or a blood transfusion.
"On New Year's Eve we were given the best present ever – Elinor still weighed just under four pounds but we could take her home. It was nerve-racking at times caring for such a tiny baby, and whoever warned me that premature babies cry more was right, but it was fantastic to be home as a family after so long.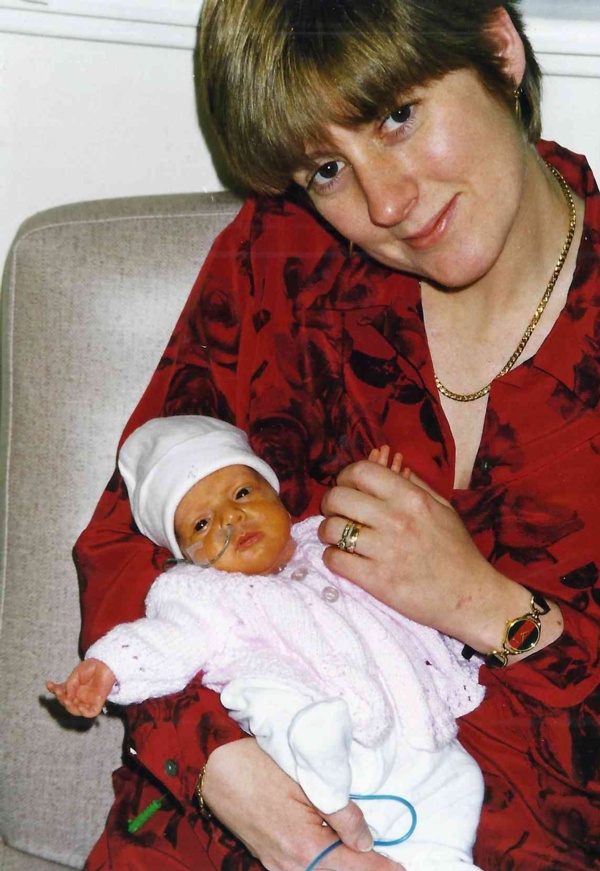 "To parents of premature babies who may read this, we wish you all the very best for your journey ahead and to everyone on SCBU, particularly those members of staff who are still there and remember us, we send our very grateful thanks as ever."
Elinor's early start and subsequent contact with the SCBU team over the years contributed to her interest in science and medicine. Having achieved top marks in her GCSEs and A-Levels, she is now in her final year studying Medical Science at the University of Exeter and is Science Editor of the university newspaper.
Karen Hughes, SCBU Manager, said: "We are delighted to see how well Elinor has done and grateful for the continued support we have received from Karen and Andy and wish them all the best for the future. Happy birthday."