Ryan Roberts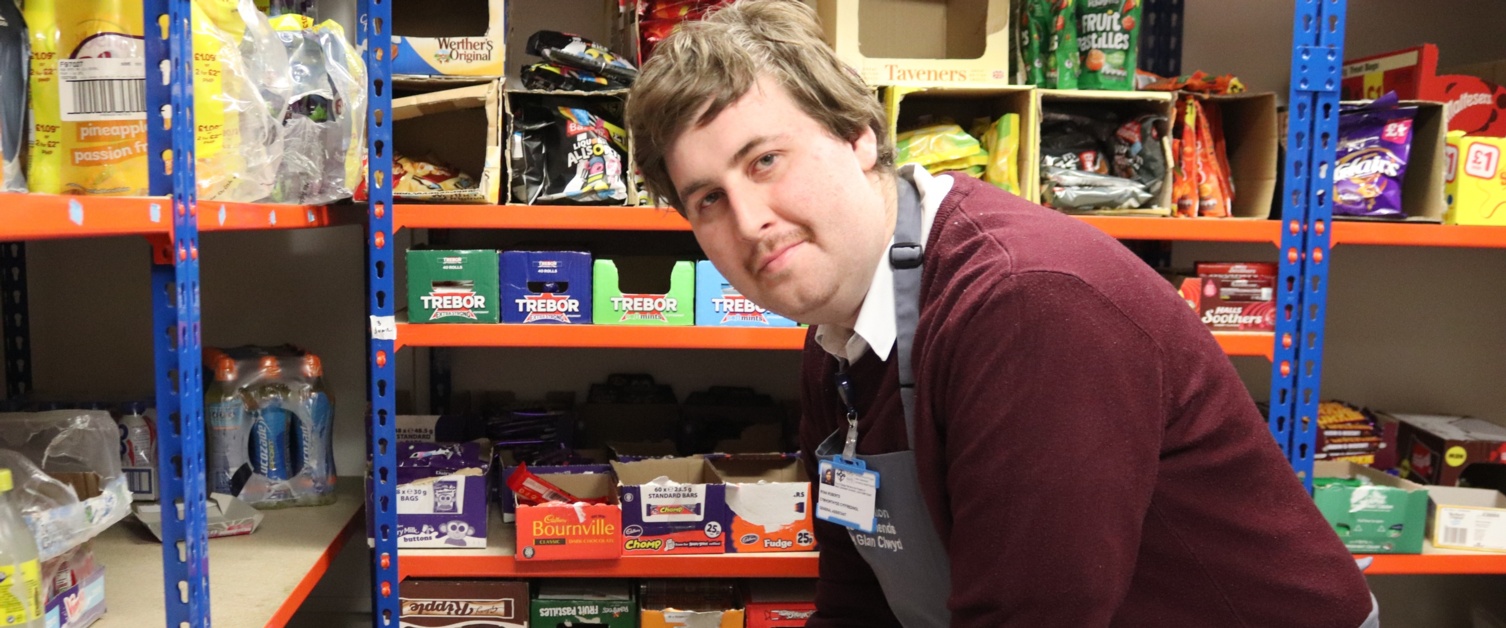 An Abergele man has spoken about how he has been supported to overcome his anxiety and enter the world of work, thanks to a unique employment programme.
Ryan Roberts, 22, is one of more than sixty people in North Wales who have been supported into employment by the I CAN Work programme since it was introduced in 2019.
I CAN Work helps people who struggle to find or hold down a job because of mild to moderate mental health problems. The programme aims to help people find and remain in employment, in order to improve their mental health and wellbeing.
The pilot project, which is the first of its kind in Wales, is being led by Betsi Cadwaladr Health Board in partnership with personal support services charity CAIS, and the Rhyl City Strategy, with funding from the Welsh Government.
It's one of a number of initiatives to be launched through the health board's I CAN campaign, which aims to empower people to take control of their mental health and provide earlier support for those that are struggling.
After studying Games Development at Coleg Llandrillo Menai, Ryan, who sometimes struggles with anxiety, says he hit a 'brick wall' when he tried to enter the world of work.
"I submitted dozens of job applications but had no luck and no responses" he explained.
"I'd hit a brick wall. It was upsetting and I wondered why nobody was giving me a chance."
Determined to improve his job prospects and build new skills, Ryan began volunteering with Llandudno Junction based Crest Co-operative.
"I completed over 100 hours of voluntary work and it helped me to build my confidence, learn new skills and get experience in retail and stock control" he said.
Ryan was then referred to the I CAN Work programme, where he was given intensive support from Lorraine Ann, an Employment Specialist with the Rhyl City Strategy, to find and prepare for suitable paid employment.
In January, he was successful in securing a job with the League of Friends at Glan Clwyd Hospital on a 20 hour permanent contract. He has continued to receive support from the I CAN Work programme throughout his employment.
Ryan said: "We looked at different jobs that I could apply for based on what I'd like to do and what I'd be able to do, with my skills and experience. I was also supported to undertake an anxiety management course, which really helped me.
"We also had a number of mock interviews to help me prepare for my interview. As a result I felt really well prepared and it helped me with my anxiety.
"My main duties are ensuring that stocks are high, making orders and helping with the running of the tea bar.
"I'm really enjoying the job and the routine it gives me. Being in work has made me more confident and given me something to look forward to everyday. I meet new people every day in work, which is exciting."
Research has shown that over a third of people with mild to moderate mental health problems are unemployed, and there is a growing body of evidence linking employment with improved mental health, wellbeing and quality of life.
I CAN Work is based on the principles of the Individual Placement and Support (IPS) employment programme, which is used across the world and is recommended by the National Institute for Health and Care Excellence (NICE) as the leading model to help people with poor mental health into work.
It is the first time that this approach has been adopted on a large scale in Wales, and it is hoped that the pilot programme will be extended.
Find out more about the I CAN Work programme here.