COVID-19 Clinical Blogs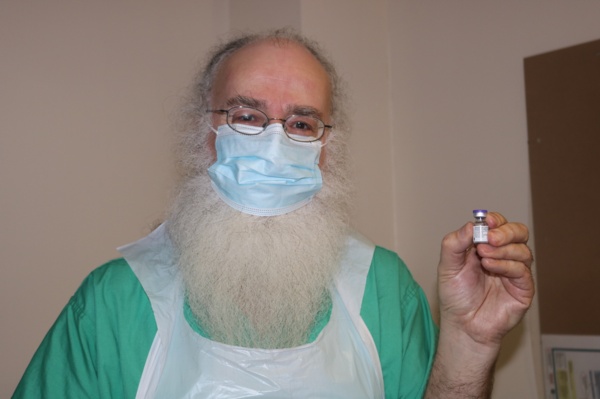 25/03/2021
Mr Stuart Griffin, Consultant Orthopaedic Surgeon, Ysbyty Gwynedd
I came to the UK originally in 1995, to a six-month contract in Maidstone in Kent, South East of London. I had a series of jobs throughout the UK including in Torquay, the legendary home of Fawlty Towers, and as far North as Newcastle On Tyne.
I well recall being surprised the first time I had realised I had been here for five years.
I landed a higher Surgical Training job in Wales in 1998, and worked throughout Wales in the ensuing five years, and was very fortunate to be home at Flinders Medical Center in 2004.
I have been a Trauma and Orthopaedic Consultant at Ysbyty Gwynedd since 2006.
North West Wales has been relatively spared the Coronavirus until recently, in part due to the rurality of the area, and the caution of the local population. But there have been outbreaks and there have been deaths amongst what is mostly a very close knit community.
Wales shut down first on Monday, March 23 2020. I had morning clinics and a busy afternoon clinic that day, while the hospital started to work out the magnitude of the pandemic ahead of us. At 5pm my expected patients for joint replacements the following day were sent home as the hospital moved into pandemic mode.
The following days were spent in the start of the planning process. Training sessions were created to update staff on driving intravenous fluid pumps, ventilators, the major team event of practicing proning ventilated patients, and the endless new practice of fit testing the staff for available FFP3 face masks.
Retired staff returned to roles they had thought they had left a few years before and the Brailsford Gym in Bangor University was converted into a temporary hospital.
This task continued for months as some masks became more difficult to obtain and others became available.
As the Orthopaedic team, all of our elective clinics were suspended, and theatres ceased.
Of course, folk keep falling and breaking bones, injuring themselves and we rapidly evolved to maximise the efficiency of their management, minimising their contacts with the hospital as much as we could, and making prompt decisions and aggressive management plans.
Our trauma practice improved with delays in surgery minimised as never before.
And while social distancing, staff shortages with illness, shielding and self-isolation and other pressures have severely limited our booked and elective surgery options, we have been busy with planning and providing really good trauma services, aiming to minimise folks' time in hospital and returning them to their own homes as punctually as we can.
As the first wave began to retreat I was approached by a long-term patient called Linda Jones with an increasingly failing hip, deteriorating from a walking stick, to crutches, to a wheelchair as pain dominated her life. Only in her early 50's life had thrown her several challenges resulting in a lung transplant a few years before. Of all the patients at risk of dying of the virus we all considered her to be the most vulnerable of people. Her plea however, was that there would be a small window of time where the virus numbers could be low, before the inevitable second wave approached. And if she missed that window she could be wheelchair bound for life.
Well aware of potential disasters there was a huge team effort to get her in, ironically onto a red virus ward at a time where there were no other patients admitted, and successfully anaesthetise her, replaced her hip and managed to get her out of bed and out of the hospital two days later. The operation went really well, but this was only part of her challenges.
Really she fulfilled no discharge criteria in normal times, but it was not normal times, and desperate measures were required. A major criteria being to get her away from other people as soon as she was vaguely safe.
A physio volunteered home visits even though she was an hour from his home each way, and the anaesthetists were prepared, despite not meeting this lady until the morning of her operation.
In any normal times, none of this would be acceptable surgical prudence.
I understand anaesthetic colleagues spent many hours in electronic conversation the night before looking at all options, and playing out all outcomes as part of their planning.
Keeping her away from other human beings was an essential part of her work up. Distance was her only defence against the virus, and this could have been a very bad outcome all round.
She is delighted with the result despite some early hiccups. Uncomplaining, and just getting on with it!!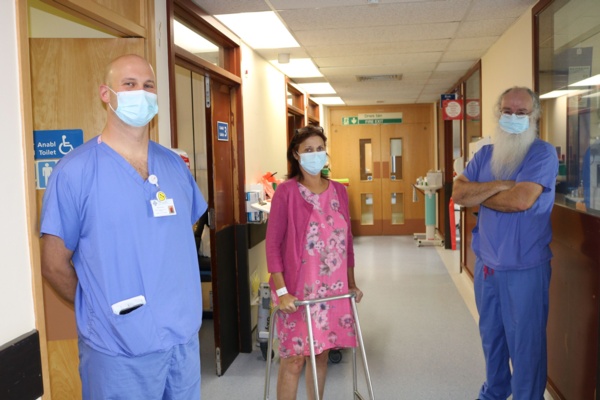 We managed some elective operating in October/November and early December but at a fraction of our usual rate. Day case surgeries predominantly, and some colleagues evolved (with very careful patient selection) to perform hip and knee replacements as day case surgery. Needs must.
Myself and many colleagues have been keen to immunise the staff as promptly as possible to make the hospital as resilient as possible for the coming months, and last week I joined very experienced nursing staff in the hospital vaccinating centre to help out with the jabs.
There will be more shifts to come.
I figure if there is to be any chance of returning to a semblance of normal we need to push the virus back with an immune and resilient population, not just for the hospital staff but the local population absolutely too!!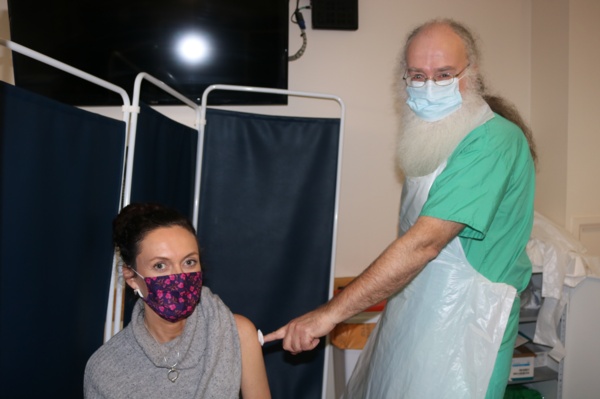 I was pleased to personally receive an initial dose of the Pfizer-BioNTech COVID-19 vaccine in January.
Of course, there were concerns regarding the timing of the second dose, and I am very pleased to have received my second dose on Wednesday, 24 February.
A few weeks later than the initial 21 days Pfizer recommended, but I do appreciate the idea of getting as many first doses into folks as possible to maximise the group immunity.
Of course we are still masking, and more importantly keeping our distance at work, and also in our own lives, with little physical contact with the extended family here for the last several months, and phone calls to friends only. Other than the drive to work and back we have not been out of North Wales since early March last year.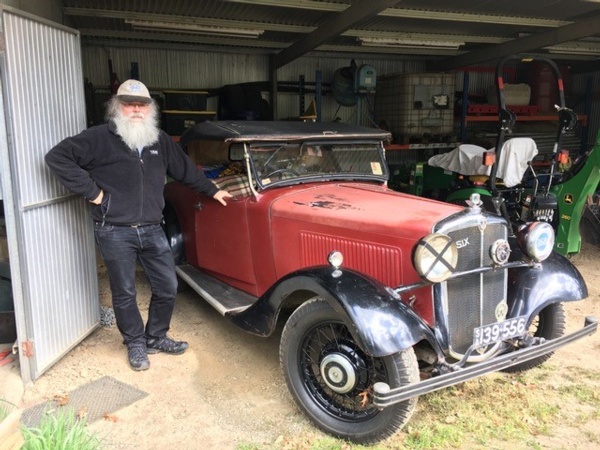 And have missed Adelaide and family so very much.
There are now over 120,000 deaths in Britain and over 5000 in Wales, with a Welsh population just over 3 million. Wales is in its third lockdown, the latest commencing on Christmas Eve.
We spent a family weekend in that first week of the hospital shut down last year making simple visors, to protect staff performing airway procedures at a stage where there were few visors available. Using some of the great broken down car get-you-home standards of duct tape and cable ties, plus an office laminator, we put together a basic production line on the Griffin dining table and delivered a hundred of them to the hospital promptly on Monday morning of the 30th March 2020 as requested.
I understand they went into the first round of COVID resuscitation packs for staff PPE.
And while better visors became available at the end of that week, we did beat them by five critical days, at a stage where the cupboards were otherwise bare.
So I am immunising, because it's time this thing were over.
Or an awful lot better contained at least!!
I feel it is a hugely positive step, as we should evolve to no longer avoiding and hiding from the virus, but are now using a 21st century bent on 18th century principle to beat this highly infectious disease.
And because we need to get back to helping folk troubled by major mobility issues, joint problems, and surgical problems with their hands and feet.
And because I really want to go home to Australia!!!
It's been too long.
And personally I need to feel Port Elliot grass beneath my feet, go body surfing, wake to the sounds of the morning birdsong in the Adelaide Hills, barbecues with mates, hug my Dad, and spend time with my brothers and their families. Get grease under my nails in the shed. And watch for the occasional koalas in the local trees.
And spend Saturday mornings at the Lions Mart!!
Don't get me wrong, these are first world problems. There are an awful lot of Australians scattered around the world doing it hard. I hear of families in caravans on cousins' driveways, couch surfing with little or no income and many other diaspora more desperately working out how to get home.
We have a roof over our heads, food on the table and can pay our debts, so our needs to be home maybe can be downplayed in the grander scheme of things.
I wasn't particularly fussed by which vaccine I was offered.
My priority was to get something in my arm as soon as possible, and I reckon anything's gotta be better than the virus.
The social distancing remains very important, but it may begin to cool later in the year as more of the population is immunised.
But it's your choice I guess.
And don't forget in this world, the virus doesn't care who you are!!
The message I would like to share with the public is that COVID 19 is a severe life threatening respiratory illness, which remains highly contagious and not only kills elderly and unwell people but also young fit adults.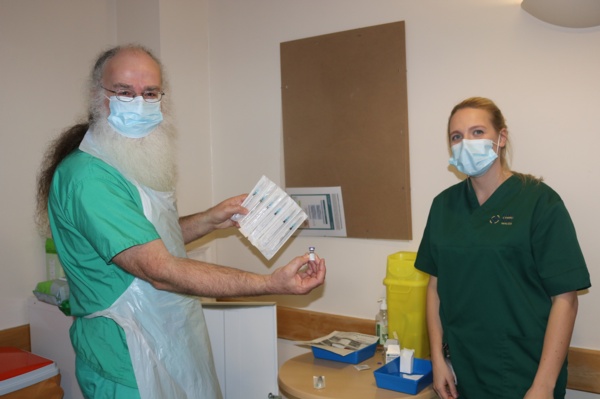 In order to resume a semblance of pre-Covid life we need to use every defence we have against the virus. The world has put enormous resources into development of vaccines to make for a resilient population with safety at the heart of their design and deployment. Please, when offered your opportunity to be immunised, read the scientific summaries and follow the advice of your doctors, as it is only with an immune population that we can see a way forward from uncertainty, illness and social isolation.
15/02/2021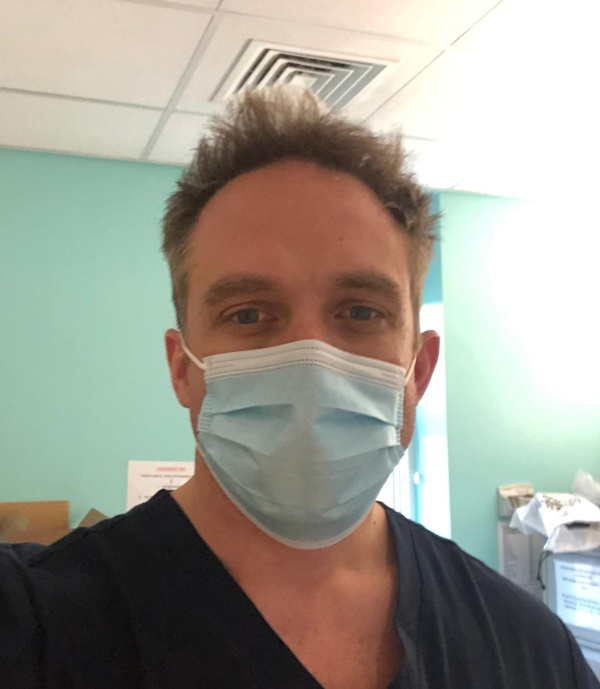 Dr Andy Campbell, Critical Care Consultant at Wrexham Maelor Hospital
It is hard to remember back to a time before COVID-19. I watch the television shocked at the lack of social distancing and absence of mask wearing in the film The Gentleman filmed in 2019. The effect of a novel coronavirus from its origins in a fish market in Wuhan to a tsunami that has taken over the world has tested every health care system to the limit and impacted everyone physically, emotionally and economically.
...the worst medical emergency for over a century...
Critical Care in the UK, especially in Wales, had time to prepare for the preordained arrival of COVID-19 patients. Prior to the first wave, a surge of fear was largely responsible for a dramatic drop in hospital admissions and occupancy. Although this gave the hospital an eerie ambiance of expectation, it did allow us time to prepare for what was predicted to be the worst medical emergency for over a century based on modeling from the outbreaks in China and Italy.
Preparations followed an All Hazards Approach to a major incident capacity provision with the (now) commonly referred to 4S theory. This focuses on Staff, Stuff, Structure and Systems: Surge Capacity Principles.
Seeing the translation of a tabletop exercise of upscaling a district general hospital with a 12 bed Critical Care Unit (of which only five are designated for Level Three care (invasive ventilation) to cope with a two to three fold increase in capacity of all Level Three patients is difficult to fathom until the various triggers were reached and surpassed.
...a Critical Care bed isn't a Critical Care bed without a Critical Care nurse...
The leading restrictive factor in preparations was unfortunately the element that was likely to make the biggest difference to outcomes - the availability of a skilled Critical Care nursing workforce. Equipment and other limiting elements have largely been overcome, but as many Twitter entries will contest, a Critical Care bed isn't a Critical Care bed without a Critical Care nurse. A challenging structural aspect of the surge plan was the complete relocation of our Critical Care Unit and co-location of newly designed respiratory high care units, accomplished in a matter of months between the first and second waves.
The clinical management of COVID-19 patients is unlike any viral pneumonia we have faced before. We have adopted a term to describe the patient with profound hypoxia (low oxygen levels) but with no dyspnoea (shortness of breath) as "happy hypoxics". This phase of the illness comes first and marks a physiological injury that doesn't seem to affect the lung parenchyma leaving the lungs light and work of breathing easy. It is, however, replaced with a more typical phase of acute respiratory distress syndrome (ARDS) where the lungs become inflamed and heavy, lung compliance falls and work of breathing increases. The patient tires and invasive ventilation becomes inevitable. The timing of when to start invasive ventilation is one of the biggest questions of this pandemic. The consensus after the first wave was that invasive ventilation brought on a myriad of organ failures and should be avoided, however there is definitely a selection bias in this conclusion but when to start invasive ventilation remains "the million-dollar question": Covid-19: When to start invasive ventilation is "the million dollar question".
Prior to the pandemic, the largely forgotten art of turning a patient upside-down was having a resurgence in acceptance following a French study showing that prone positioning in ARDS showed mortality benefits to critically ill patients: Prone Positioning in Severe Acute Respiratory Distress Syndrome (nejm.org).
...a skilled proning team that come to turn them supine...
As a result, as I walk around the Critical Care Unit, many of our patients are being cared for face down on ventilators with a skilled proning team that come to turn them supine and then prone again once each day. This technique has also been adopted in the awake patients and showing benefits in both mortality and reducing the likelihood of progressing to invasive ventilation: Awake prone positioning in non-intubated patients with acute hypoxemic respiratory failure due to COVID-19: a systematic review and meta-analysis | Research Square.
Research has played a big part to try and improve the high mortality of patients that develop severe COVID-19. BCUHB Critical Care teams have really excelled in offering enrollment into the two main trials: RECOVERY and REMAPCAP. It is thanks to the outcome of these trials that we now have dexamethasone and more recently tocilizumab which are two drugs shown to improve survival in COVID-19 as standard of care in our critically ill patients.
The reason this is so important is that the mortality in COVID-19 patients sick enough to require Critical Care is high, and the journey is long. Survivors are often on our unit from three to six weeks or more. This requires a massive physical reserve to endure such a long period of life support. Two thirds of patients in Critical Care are under 65 years old and 15 per cent are under 45, and despite this young patient group, mortality is still high - especially in those requiring invasive ventilation and renal replacement therapy (74 per cent): ICNARC – Reports
...the impersonal nature of communicating remotely takes its toll...
Having to communicate this to the families and loved ones of our patients over the phone has been grim. Despite the use of video calling and other technological advances, the impersonal nature of communicating remotely takes its toll on the family but also on us. Personally, I hate the silences on the phone calls most of all. Are they crying? Are they processing? Are they waiting for more information?
I never had this issue with face-to-face family interviews. Communication is truly more than just the spoken word. The psychological impact from this pandemic will far outlast the ongoing transmission of the virus. Efforts to ameliorate the psychological impact with continued focus on promoting wellbeing and building resilience are key. The continuing funding of a designated unit psychologist and follow-up clinics will need to be a specific ongoing focus of our Critical Care moving forwards.
It is the nurses, both those with critical care training and the much-welcomed support staff from all over the hospital, that have imaginably undergone the highest physical and psychological burden. They have had to deal with some of the most unstable patients they have ever experienced, working at stretched ratios of care for long shifts in uncomfortable PPE. Perhaps the most difficult aspect is knowing that it is their gloved hands that are the surrogate for the hands of loved ones supporting each and every patient in their uncertain journey.
There is no getting away from the impact of this virus, and the morbidity and mortality that has occurred and will continue to occur from both COVID-19 and non-COVID causes. There was never going to be a damage-free path through this pandemic, but what cannot be questioned is the dedication of everyone in the hospital and the efforts they have gone to in order to provide the best care possible during this unprecedented time.