A nurse at Ysbyty Gwynedd who has been described as a 'role model to all' has received a special award.
Sister Rachael Hughes, who is the Interim Ward Manager on Ogwen Ward, was nominated for a Seren Betsi Star award by her colleague for going above and beyond in her role.
Rachael, who started her role as Ward Manager on the Orthopaedic and Trauma Ward in January 2019, has been praised by colleagues for her commitment to her role and for her positivity that has helped to improve staff morale.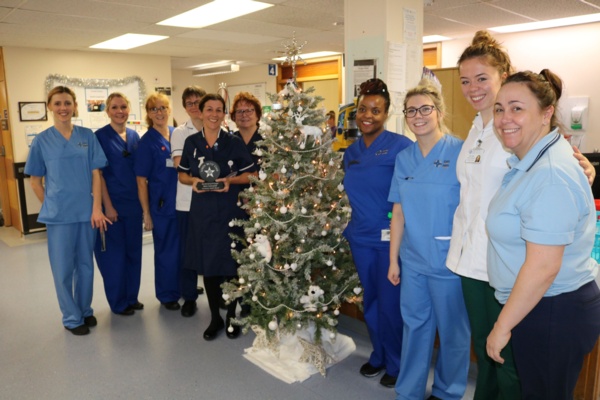 Nurse Sophie Burgess, who nominated Rachael for the award, said: "Rachael has been innovative and has gone above and beyond to make improvements and changes on Ogwen Ward which has brought real benefits to patients and staff.
"She has always shown passion in what she does and has encouraged all the staff to progress in their own development.
"Rachael encouraged me to apply for a secondment as a Deputy Ward Manager, as well as encouraging numerous Assistant Practitioners to take up further training.
"She's an outstanding and inspirational leader as well as a team player – she's a real role model to us all."
The Seren Betsi Star award recognises the hard work and dedication of North Wales NHS staff and volunteers.
Rachael said: "I'm really surprised I have received this Seren Betsi Award. I work with a fantastic team of staff on Ogwen Ward and I'm really proud of them and thoroughly enjoy being part of the team."
Rachael was presented with the award by the Health Board's Executive Director of Workforce & Organisational Development.
She said: "I was delighted to present Rachael with her Seren Betsi Award. Rachael really goes above and beyond in her role and is clearly highly regarded by her colleagues. Congratulations Rachael, you truly deserve this award."