Betsi Health Board LGBT+ champion shortlisted for top national award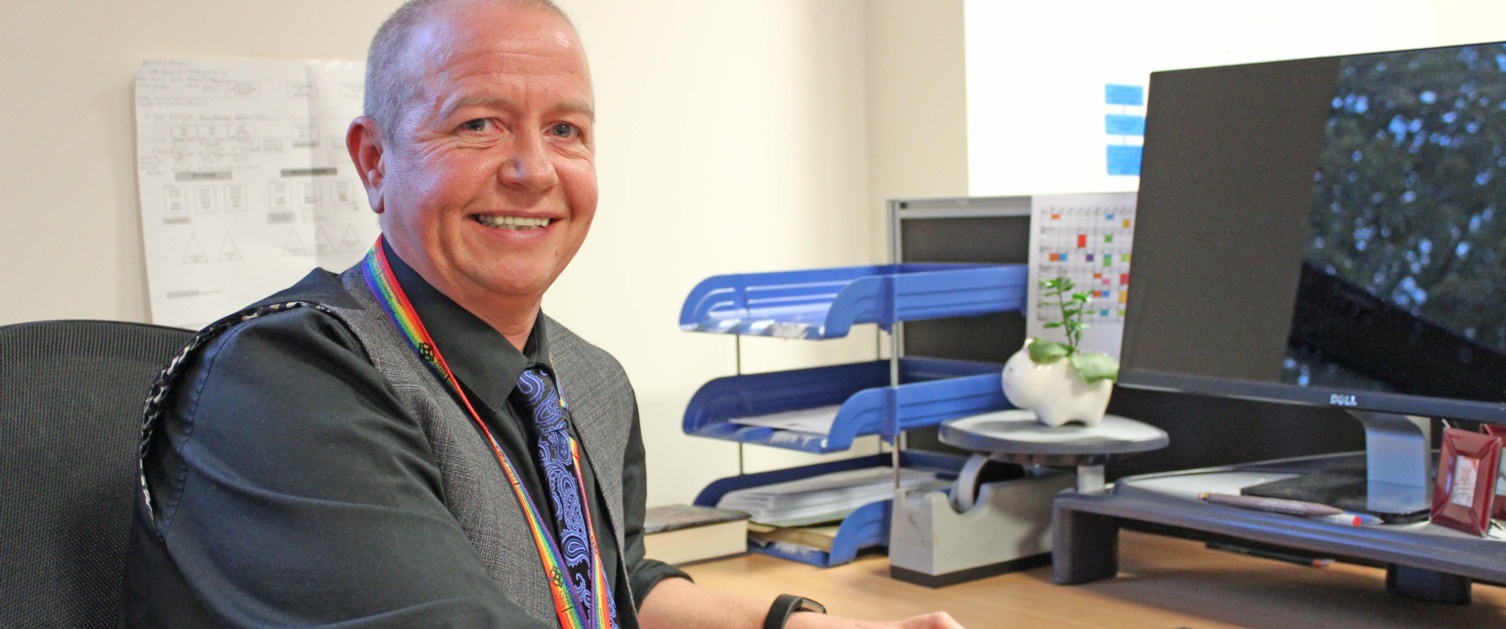 A Conwy based transgender activist has been shortlisted for a top national award for his work to empower the LGBT+ community in Wales.
Jack Jackson, a Team Leader for Mental Wellbeing and Counselling at Betsi Cadwaladr University Health Board, has been shortlisted for LGBT+ website PinkNews' Role Model Award 2019.
He will attend a glittering PinkNews awards ceremony this October in London, which will celebrate the best and brightest in LGBT+ equality.
The Role Model Award is a new award that seeks to celebrate an individual who has led by example to empower the LGBT+ community.
It is not the first time that Jack's efforts have been recognised. In 2018 he was named Stonewall UK's Trans Role Model of the year in recognition of his voluntary work on LGBT+ causes and efforts to broaden understanding of trans issues across Betsi Cadwaladr University Health Board.
Jack and Trudy, his partner of over 20 years, have recently set up an independent support group which helps the parents and carers of young people in North Wales who are questioning their gender identity.
He has also developed a buddying scheme for transgender students at Bangor University, and he is currently developing "lunch time lectures" for University staff to raise awareness of the needs of trans, lesbian, gay or bisexual students. Jack is also a stakeholder on the All Wales Gender Identity Partnership Group.
Jack has also been recognised for inspiring colleagues across the health board to speak openly about mental health and trans related issues.
He played a key role in ensuring that Betsi Cadwaladr University Health Board was recognised as one of the UK's top employers by LGBT+ charity Stonewall for a fourth successive year.
He is currently developing awareness training and resources for nursing staff around the needs of LGBT+ patients.
Nominating Jack for the award, Mike Townson, Senior Equalities Manager at BCUHB said:
"Jack has play a key role in helping to broaden awareness and understanding of trans issues across the NHS in North Wales. He is an extremely nice person, and a terrific ambassador for BCUHB and I sincerely hope this is recognised in the awards."
Jack credits his ability to influence and inspire others with being authentic in work and in his personal life, after many years of fearing prejudice and non-acceptance.
He said: "I identify as a trans man and I've known about my gender identity for many years. But for a long time felt unable to be authentic, in both my personal and working life, through fear of prejudice non-acceptance.
"Being authentic has changed my life completely – living my life as Jack has enabled me to not only love myself but also be loved by others. By being authentic at work, I have a deeper connection with and better understanding of myself. It's had a really positive effect on my wellbeing, both mentally and physically. And it's enabled me to feel a much stronger and deeper sense of self-worth and confidence.
"I've taken great pride in helping to influence the awareness of trans issues across the Health Board and the wider community in North Wales."