A GP has praised a specialist musculoskeletal service at Ysbyty Gwynedd and hopes to develop a similar model in primary care clinics in Singapore.
Dr Zhang Zhi Peng spent three weeks in Gwynedd and Anglesey looking at the systems both in primary and secondary care and learning about the Clinical Musculoskeletal Assessment and Treatment Service (CMATS).
CMATS was introduced at Ysbyty Gwynedd in 2002, and rolled out nationwide in 2012, and changed the system for dealing with GP outpatient referrals of patients with musculoskeletal conditions. This included Orthopaedics, Rheumatology, Pain Management and Physiotherapy.
Consultant Rheumatologist, Dr Jeremy Jones, who established the service, said: "CMATS has been developed to provide an efficient and effective pathway to provide a single point for all Musculoskeletal (MSK) referrals.
"The aim of CMATS is to ensure that the patient is assessed and treated as quickly as possible by the most appropriate speciality/clinician.
"Referrals will come into the CMATS triage centre and will be looked at by the CMATS team. They will make an assessment from the information provided by the GP as to which service is best suited for the needs of the patient."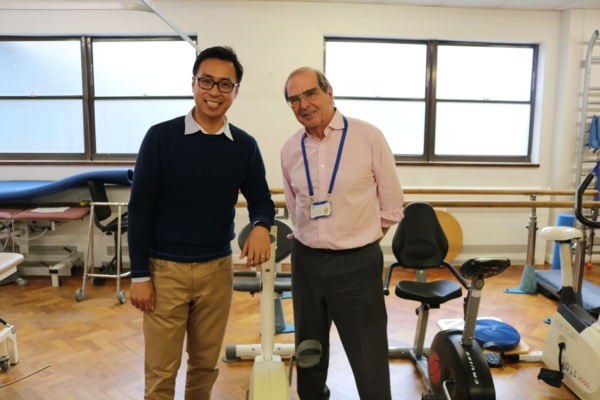 The referral will then be forwarded to the most appropriate speciality, this could be Orthopaedics, CMATS MSK/Spinal Team, Rheumatology, Pain Services, Therapy Services or the Orthopaedic Lifestyle Programme.
The Orthopaedic Lifestyle Programme was designed to support and deliver a weight loss and exercise programme for people with hip or knee arthritis requiring a joint replacement. The programme is aimed at those with a BMI of 35 and over to improve health and wellbeing.
Dr Zhang, who works as a GP in a large practice in Singapore, said his visit has been extremely beneficial.
He said: "We see a number of patients with similar conditions in our practice in Singapore.
"We are currently looking to reorganise the system for providing health care for people with musculoskeletal conditions so these past 3 weeks have been very helpful.
"The CMATS service is already known internationally, which is why I wanted to come over to North Wales to learn more about it and see if we are able to take elements of this service to Singapore."
"It has been really interesting and it's always great to learn and see how things are being done in other parts of the world. This is an excellent service and I can see from my time here that the patients are really benefitting from it."