Healthcare worker hopes to lead Wales ladies golfing team to victory after long battle with Crohn's Disease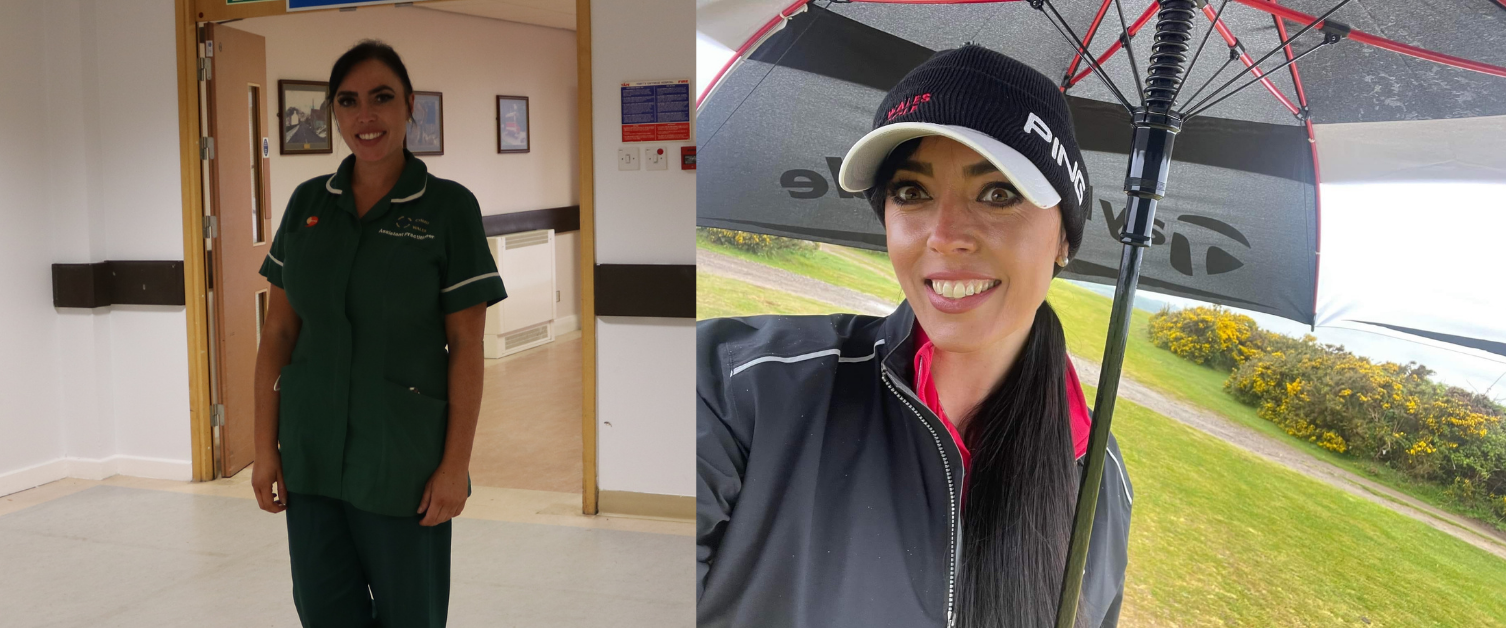 04.07.22
A healthcare worker from Ysbyty Gwynedd is hoping to lead her country's team to victory this week at the European Ladies Golfing Championship in Conwy.
Laura Roberts, who has worked at the hospital for over 10 years, had hoped to pursue a golfing scholarship in America fifteen years ago at just 18-years-old. Sadly, she was unable to follow her dream due to becoming seriously unwell with Crohn's Disease.
Crohn's disease is a type of inflammatory bowel disease (IBD). It causes inflammation of the digestive tract, which can lead to abdominal pain, severe diarrhoea, fatigue, weight loss and malnutrition.
Laura spent most of her early twenties as an inpatient in Ysbyty Gwynedd due to the severity of her condition and once well enough to be discharged she continued a career within healthcare and worked on the hospital's Stroke Unit for 12 years.
"I had played golf as an amateur for many years when I was a teenager and I had the opportunity to go across to America for a scholarship which was an amazing opportunity for me.
"Unfortunately I was diagnosed with Crohn's and I became very sick and needed hospital care. There was no chance I could have gone to America, I would never have been able to afford health insurance and I was just too unwell," she said.
Laura, 33, stopped playing golf altogether following her diagnosis but last year decided to take up her passion once again and hopes to play in county golf tournaments next year.
Now the mum of two is captaining the Wales team at this week's European Ladies Golfing Championship.
She said: "I am so proud to be representing my country, I never thought I'd get a chance to take part in something like this again.
"Living with Crohn's Disease is a battle every day for me, I've had some very dark days since my diagnosis.
"My days revolve around timings of when I am able to eat, but I have learnt to live with it and the pain each day, this disease doesn't define me and I knew better days would come.
"I am honest about my condition and I'm passionate about raising awareness so that others can understand more.
"I have had times when I've felt like a failure but you do get through this and I hope my story will help others who are living with this disease and give them hope that you can continue with a normal life and pursue your dreams.
"I've been lucky to have such fantastic work colleagues and of course my family, who have been my rock – especially my little sister, who has always been my biggest fan. I hope to make them all proud this week and bring the trophy home to Wales!"