Dedicated Ysbyty Gwynedd Robin wins health board award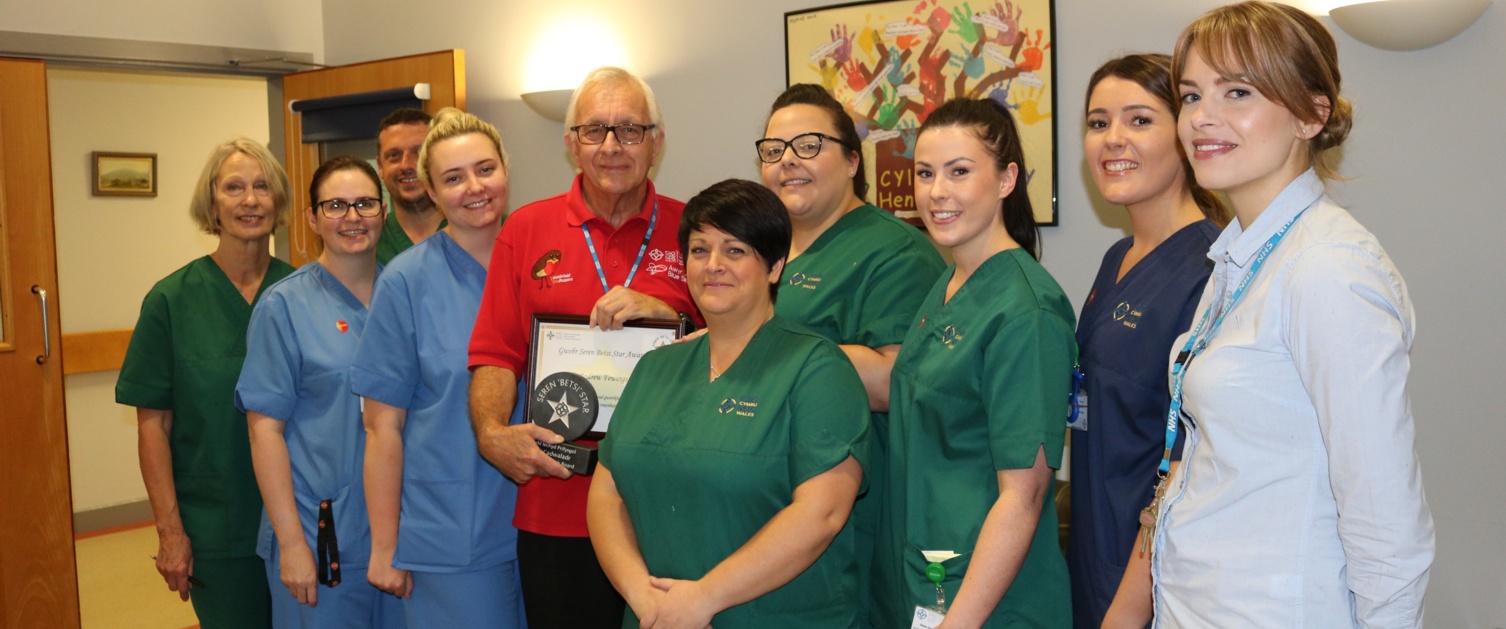 Around five years ago Andy Fewings began volunteering at the hospital to thank staff for the care and treatment he received after being diagnosed with cancer.
He spends one day a week volunteering on Alaw Ward and the other for the Royal Voluntary Service within the hospital.
The 71-year-old retired postal worker was nominated for a Seren Betsi Star award by Volunteers Co-ordinator Nia Lloyd-Roberts for his dedication to supporting the teams and patients at the hospital.
She said: "Every Wednesday Andy will gift his time as a Robin volunteer to Alaw Ward at Ysbyty Gwynedd. On Thursday's he volunteers with the RVS assisting in the Transfer Lounge where patients wait for hospital transport once they are discharged from hospital.
"He also maintains the upkeep of the ward's garden in order for patients to be able to enjoy being outside.
"He is also an excellent mentor to new volunteers and receives nothing but praise from them. Not only does he volunteer on the ward itself but he will also ensure that patients on the Alaw Day Unit have had something to eat and drink as well as company if required whilst receiving treatment.
"His story is inspirational and he has proven to be a reliable and committed volunteer who has a positive impact on the patients on the ward.
"Andy will go above and beyond the organisational values and truly does put the patient first. Andy knows from personal experience that being in hospital can be very daunting so anything he can do to ease anxiety or feeling of isolation and loneliness is worth every second."
The monthly Seren Betsi Star award recognises the hard work and dedication of North Wales NHS staff and volunteers.
Andrew said: "It's absolutely lovely to receive this award, it really was very unexpected.
"The main reason I volunteer is to give back to the staff for all the support and care they provided when I went through my treatment after I was diagnosed with cancer in 2013.
"It's due to the staff within the Health Board that I am here today, there is never enough I can do to repay them, so through my volunteering I feel I'm giving something back to say to thank you."
Andrew was presented with the award by the Health Board's Acting Executive Director of Finance Sue Hill.
She said: "I would like to congratulate Andrew on his award, he is an excellent example of the positive impact our volunteers can have on both our patients and our staff.
"He is doing some fantastic things for our Health Board and always puts the patients first."